Best Barber Chairs in 2022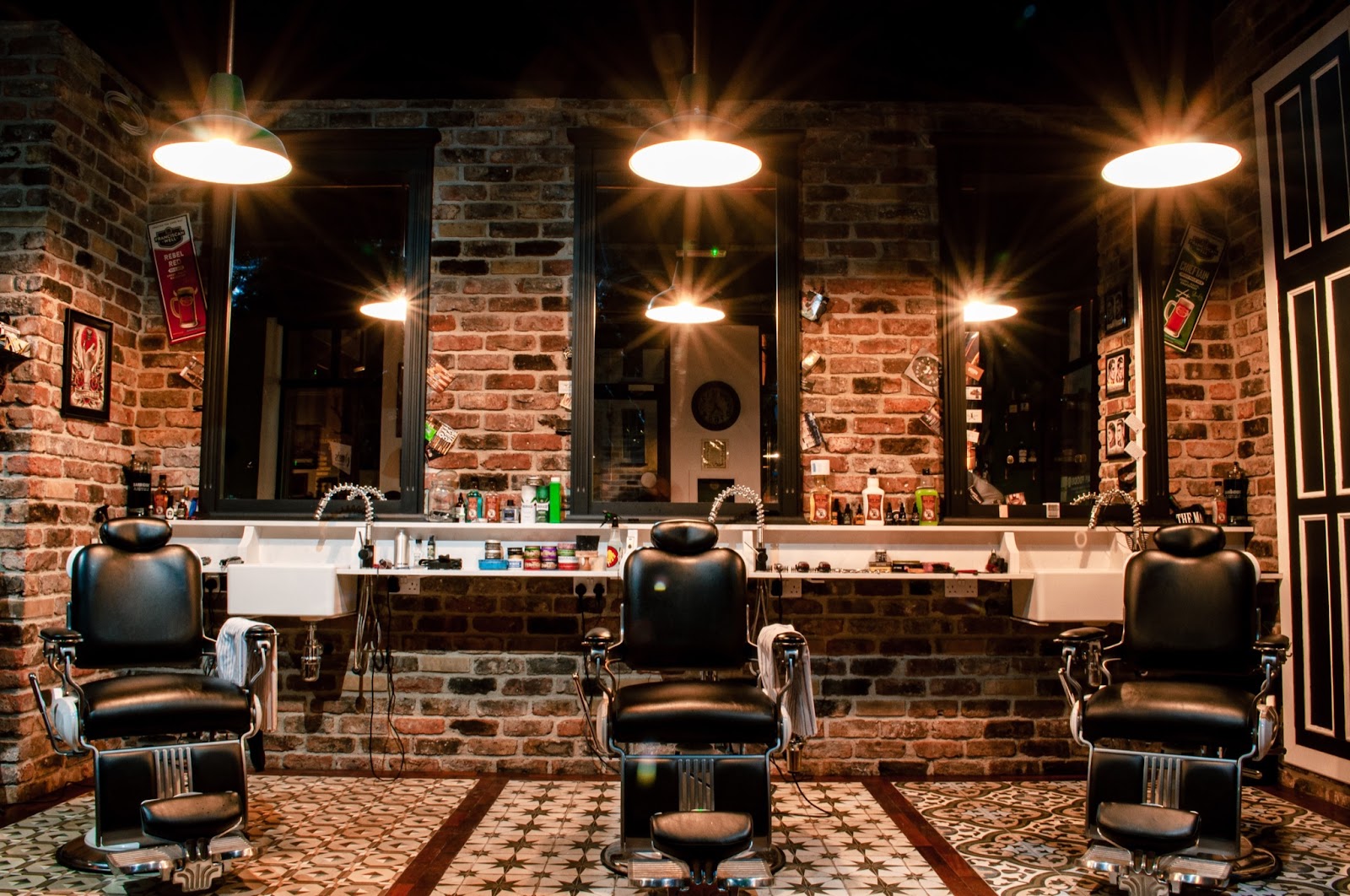 Making sure you have the best barber chairs for your shop says a lot about the quality of your business, as the best barber chairs will provide your clients with the comfort they need while getting their hair cut or styled. They're the first things clients see when they walk in, and it sets the tone for the entire experience. Whether a client comes in for a quick trim or an all-day pampering, the right chair can make all the difference.
There are a lot of factors to consider when choosing a barber chair, but with so many options on the market, it can be hard to know where to start. To help you narrow down the choices, we've compiled a list of the best barber chairs for your barbershop or salon in 2022.
What makes a good barber chair?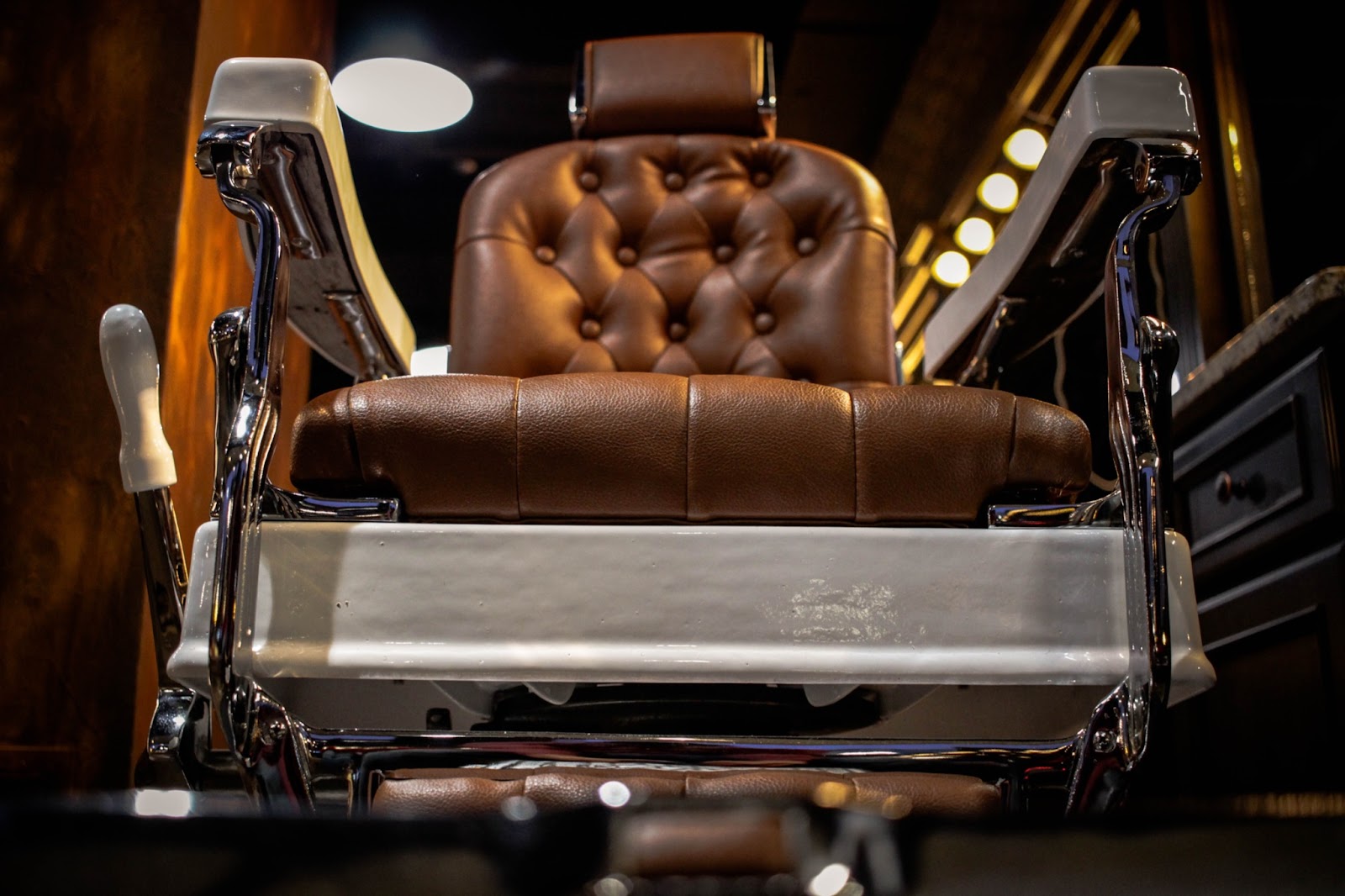 Quality barber chairs can make the difference between a good haircut and a great one. There are many qualities you need to keep in mind even when considering a selection from the best barber chair brands.
Comfortable: A good barber chair should be comfortable to sit in for long periods. That's why choosing a chair with padded armrests, a headrest, and lumbar support is important. By investing in comfortable chairs, you can allow your clients to relax and feel at ease while getting their haircuts.
Adjustable: A good barber chair should be able to accommodate different heights and sizes. Find chairs with height-adjustable footrests, headrests, and armrests. You should also consider chairs with reclining features, so your clients can relax during their haircuts.
Stylish: The best barber chair for your salon should match its style. Opt for chairs with clean lines and simple designs if you have a modern shop. For traditional shops, choose chairs with wood accents and classic styling.
Durable: Beyond aesthetics and comfortability, you'll also want to make sure your chairs are durable. High-quality materials, like leather upholstery and stainless steel accents, will indicate that the chair will last for years to come. Avoid chairs made with cheap plastics as they're more likely to break down over time.
Easy to clean: In any barbershop, sanitation is vital. Be sure to buy chairs that are easy to clean, so you can keep your shop looking its best. Leather upholstery and removable headrests are both features that will make cleaning your chairs a breeze.
Most Popular Barber Chair Styles
Going in line with the theme of your barbershop, you'll want to make sure you get chairs that match the style and decor.
Modern Barbershops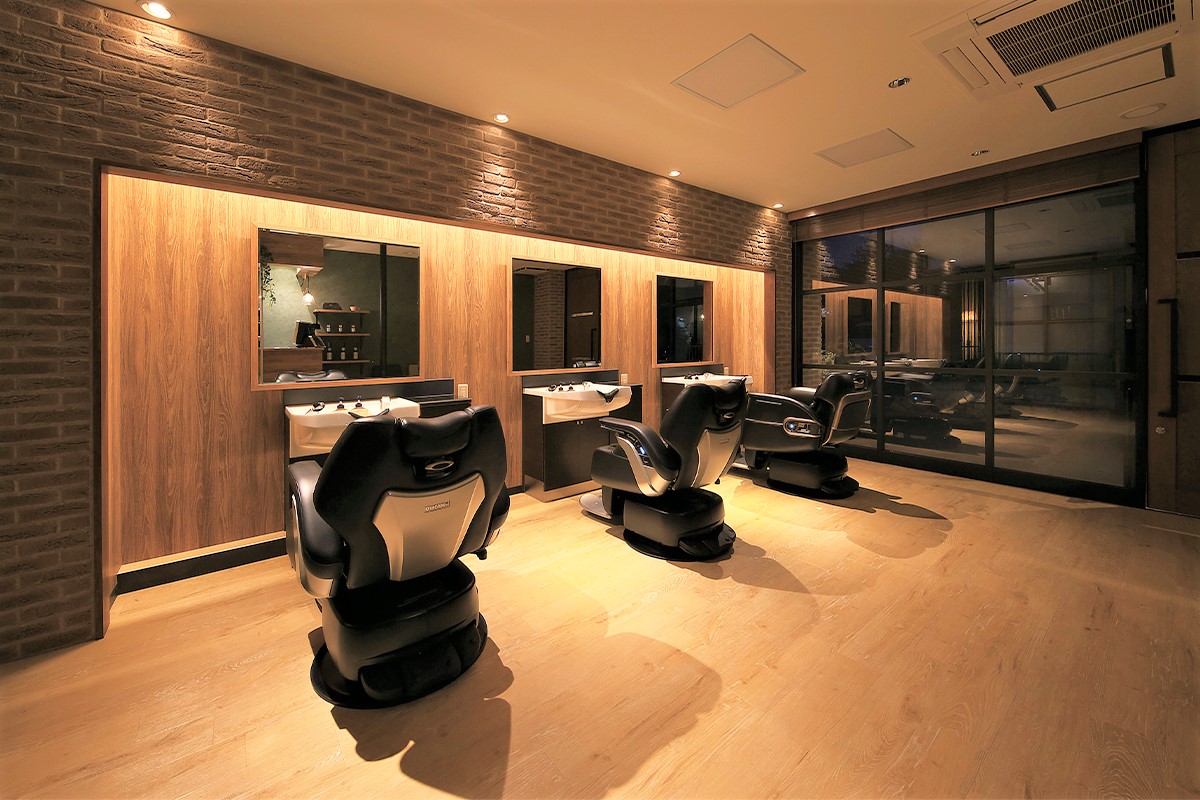 Modern shops can opt for plain, sturdy chairs made with materials such as aluminum or black or white leather.
Alternatively, you can go with mid-century modern chairs inspired by the design trends of the 1950s and 1960s. These chairs often have retro features like rounded armrests and tapered legs.
Want something a little more minimalistic? Scandinavian barber chairs are inspired by the simple, clean lines of Scandinavian design. These chairs are often made with light-colored wood and leather, which gives them a sleek look. This is the way to go if you want your shop to have a calm, relaxing atmosphere.
Classic Barbershop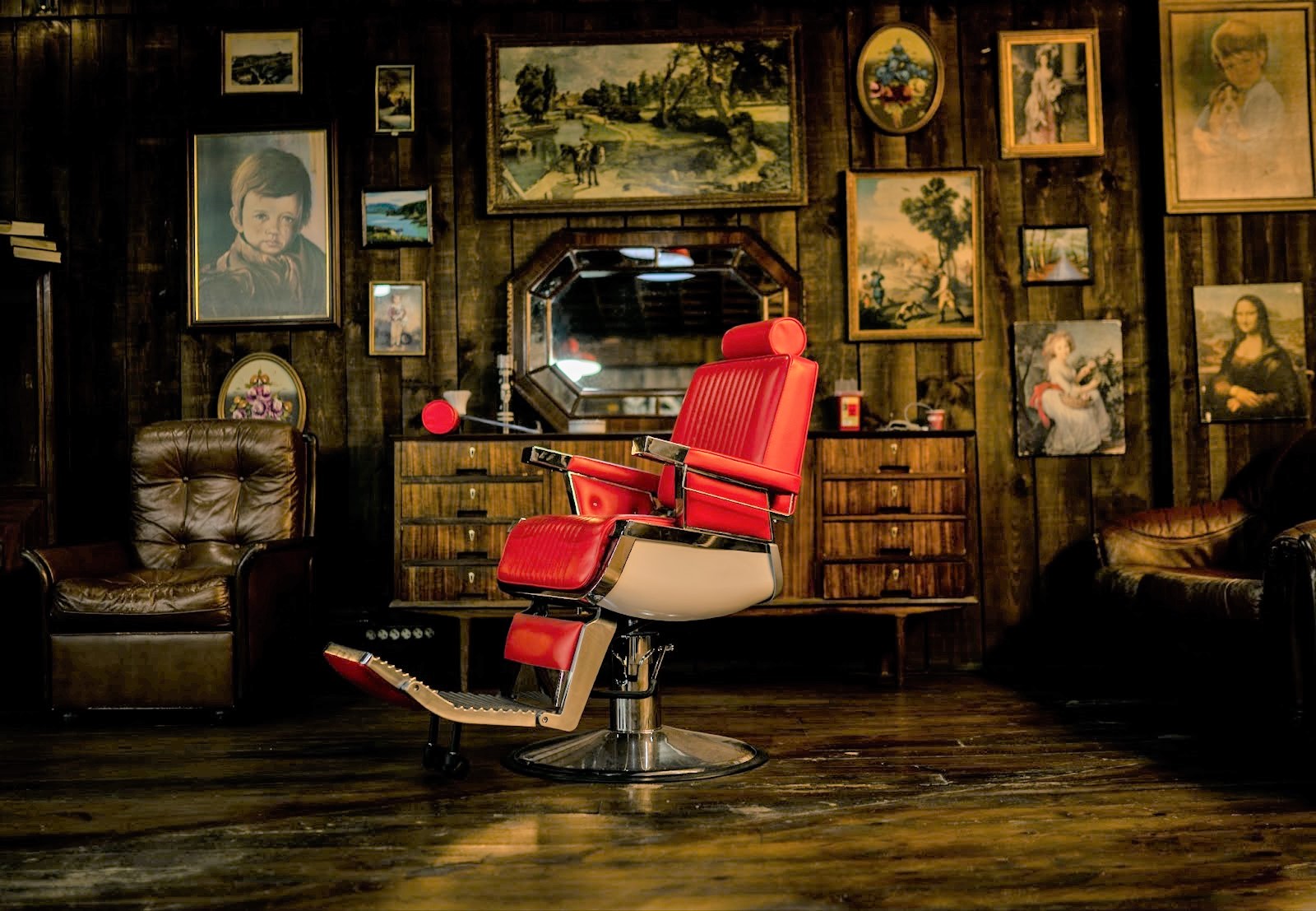 On the other hand, those who want to go with a classic look can opt for vintage barber chairs that never go out of style. These chairs are often made of wood and leather, which gives them a luxurious feel.
Art deco barber chairs combine vintage and modern elements to create a unique look. These chairs often have vintage-inspired features, like tufted leather upholstery, but they're made with modern materials like chrome or stainless steel. If you want your shop to have a chic, sophisticated look, then consider adding art deco chairs to the mix.
Industrial barber chairs have a rugged, masculine feel. They're often made with industrial materials like metal or concrete, which gives them a sturdy, no-nonsense look with a tough, edgy vibe.
The 10 Best Professional Barber Chairs
Now that you know what to look for in a good barber chair, here are our 10 top picks for the best barber chairs for your shop in 2022. Our selection includes modern, classic, and vintage-inspired chairs to help you create the perfect look for your shop, as well as considerations for color, adjustability, and comfort. Let's take a look!
The Elegance 225 Diamond Takara Belmont barber chair blends modern and classic aesthetics to produce a pleasing, utilitarian look that will complement any shop. The diamond stitch pattern on the back and seat add a touch of luxury. It's made with a durable metal frame and upholstered in vinyl for easy cleaning. The seat, backrest, and headrest are all adjustable to provide maximum comfort.
The Elegance 225 Classic barber chair scores points with over 40 vinyl color options, a clipper hook, a towel bar, and a hydraulic base or electric base to make it an electronic barber chair. The Elegance 225 Classic Barber Chair is perfect for busy hair artists and themed shops seeking vibrant colors for a traditional barber shop atmosphere.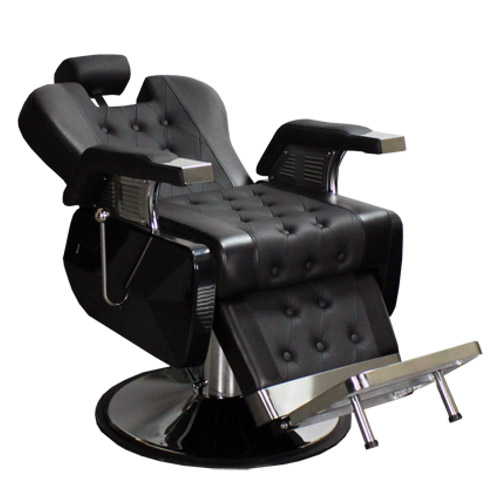 If you're looking for the ultimate masculine chair to tailor to your shop's look, look no further than the Fillmore Barber Chair. The regal black and red colors are made to fit a plush, gentlemanly aesthetic. Pamper your clients during a cut, wax, or shave with upholstered fabric and an extra wide seat and take advantage of the adjustable, recessed headrest.
Known for being featured in stunning museum collections such as the Museum of Modern Art (MoMA), the Eames Lounge Chair was the muse of this salon chair by DIR. The iconic mid-century design and natural wood finishes can elevate any salon environment, while the tufted seat and high-density memory foam provide the ultimate comfort.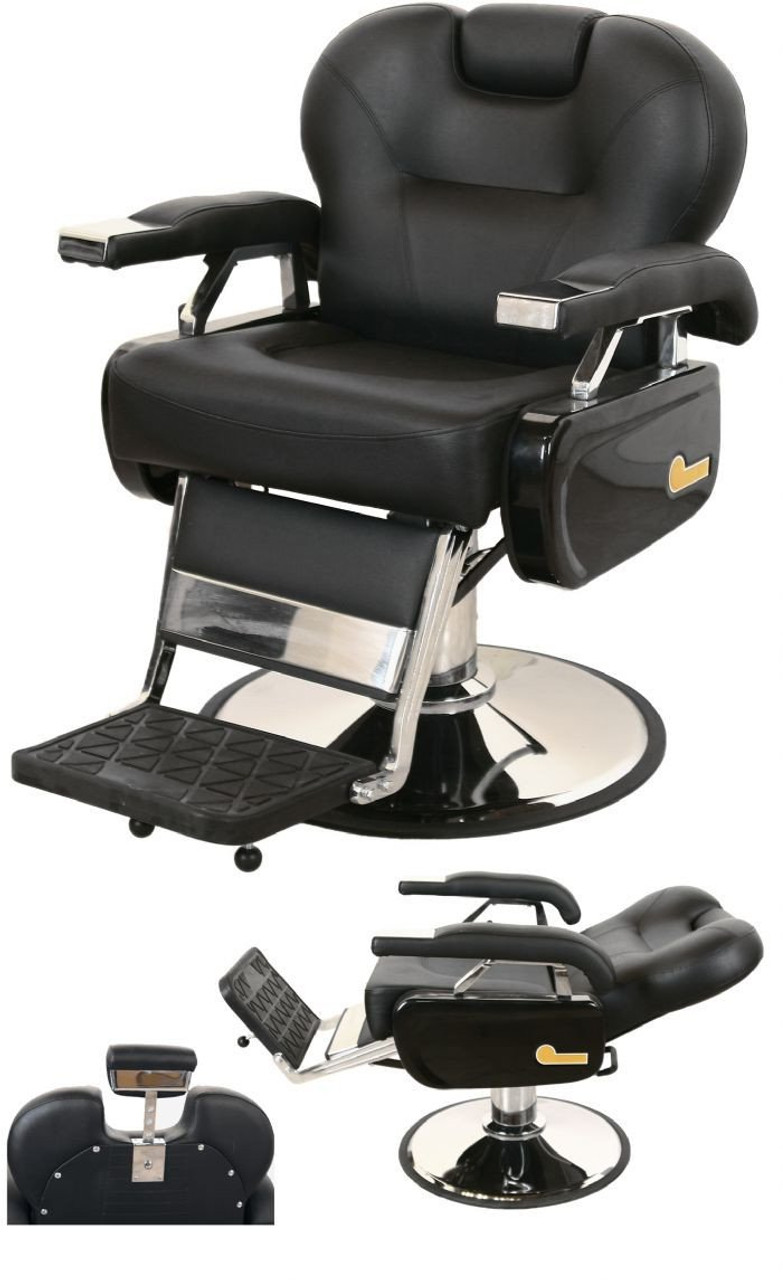 The 109EX Barber Chair by Jeffco instantly conveys comfort with its wide seat, adjustable footrest and headrest, and cushy appearance. In modern black and chrome, it can to suit the needs of any barbershop, whether a minimalist salon or a sleek, high-end institution. Its extra-large chrome base will undoubtedly make a statement.
Versatile and comfortable, the Executive Barber Chair by DIR features high-density foam padding and a heavy-duty hydraulic pump, as well as high-grade faux leather for the utmost comfort. It could be the best portable barber chair for your shop with its footrest roller wheels and adjustable design. Due to its heavy chrome steel base, it is a durable piece that can upgrade your salon.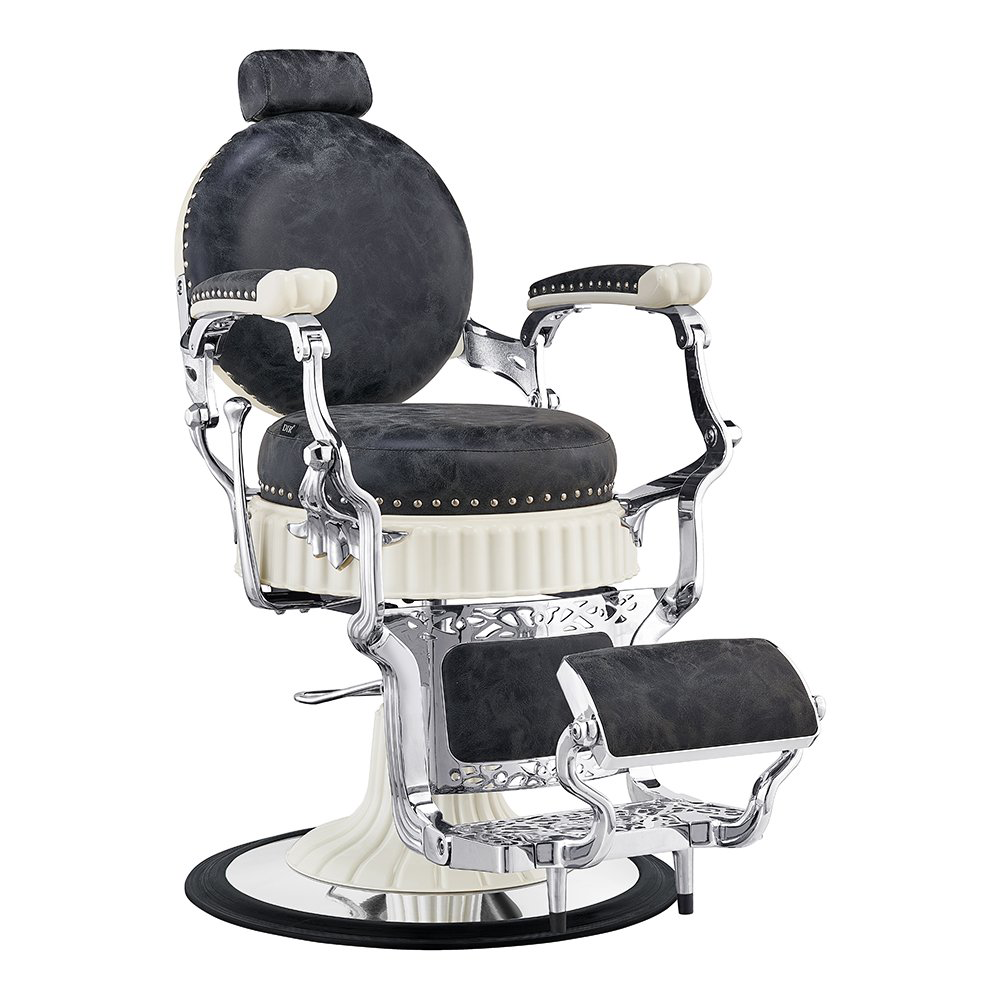 As one of the most lavishly designed chairs from DIR, the Mikado Barber Chair is all about antique detailing and European design. The brushed chrome finish, high-end faux leather, and tufted seat all contribute to an upscale and comfortable experience for clients coming in for a quick trim or a several-hour dye job. Treat your clients like royalty in this chair, available in black, vintage black, red, and grey.
This no-nonsense black and chrome piece makes a sleek addition to any modern barbershop. For those who want a simple yet comfortable barber chair, the Jaxson Barber Chair comes with all the must-have features, such as a reinforced steel frame, durable pump and plate, and an adjustable seat and headrest. Customers are sure to sit comfortably and enjoy a seamless haircut and styling process.
The McKinley barber chair from Berkeley is an eye-catching product. It has a rounded back cushion and a roomy seat, both upholstered in black leather. The rose gold- or gold-plated frame and flip-style footrest give this chair a touch of luxury. With its sophisticated and regal design, it will undoubtedly provide your shop with a one-of-a-kind vintage appeal.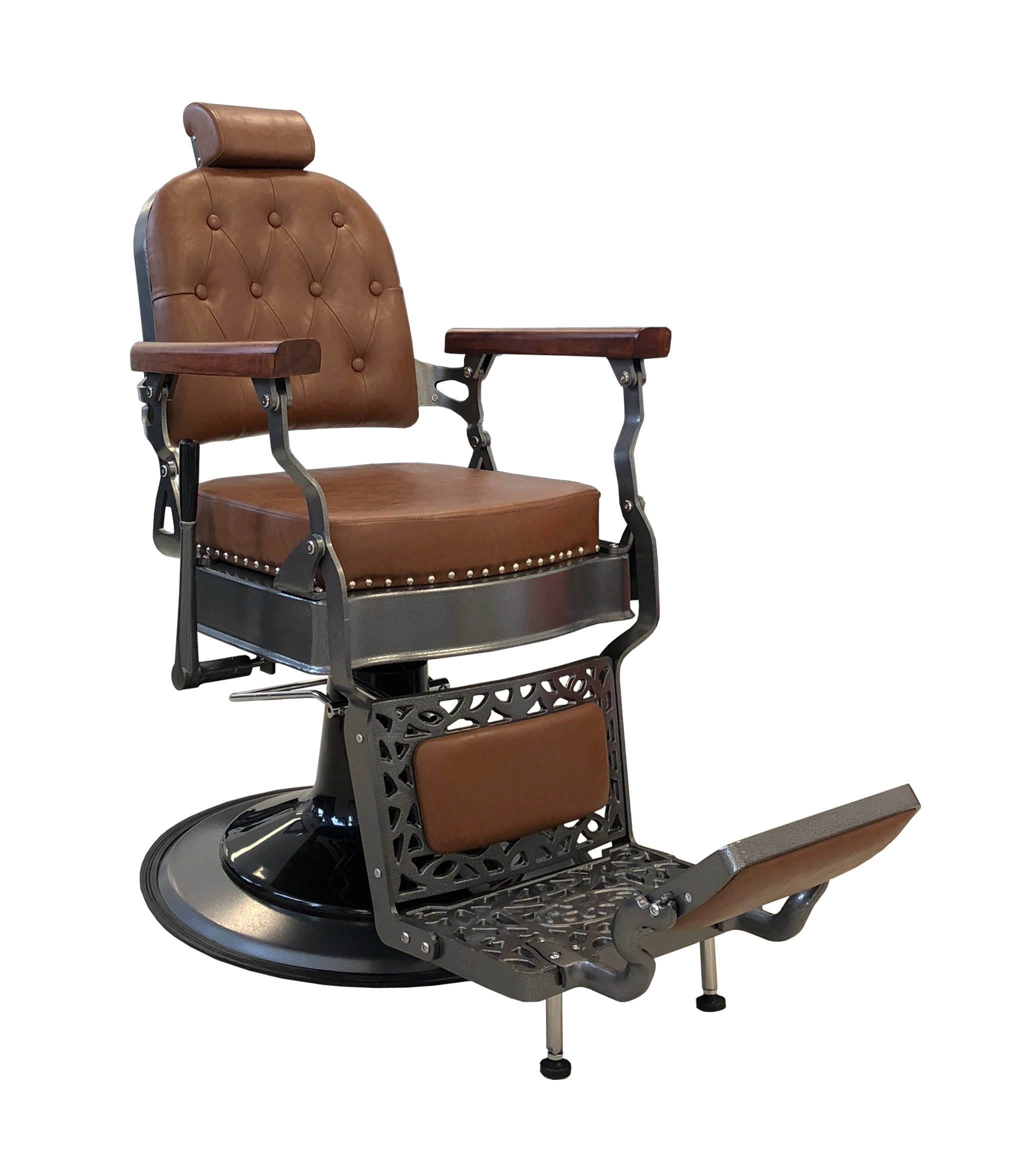 The Van Buren barber chair comes in black, red, or brown upholstery with rose gold or black trim. This unique, fairytale-like barber chair is ideal for salons with a whimsical theme. Not only is it beautiful with tufted buttons and professional-grade PVC, but it is also comfortable with a 45-degree recline, ankle and calf rest, and a plush seat cushion.
FAQs
Here are some frequently asked questions about barber chairs:
Which barber chair is the best?
Even if labeled one of the best barber chairs in the world, it might not be the best for your barbershop or salon. When choosing the right chairs for your salon, consider the needs of your clientele and the overall style of your shop, as well as comfort, style, and durability. By investing in high-quality furniture, you can create a space that your customers will love coming back to.
What are the chairs in a barbershop called?
The chairs in a barbershop are typically called barber chairs. However, some shops may call them styling chairs or salon chairs.
What is the difference between a barber chair and a styling chair?
There are a number of differences between a barber chair and a styling chair:
A barber chair is designed specifically for razor capabilities, facial hair expertise, and beard care, while a styling chair is designed for hairstyles expertise and styling tools (scissors, flat irons, etc) capabilities
Barber chairs are bigger and more masculine, while styling chairs are sleeker and more compact
Barber chairs can recline and have removable headrests, while styling chairs do not typically recline and do not have headrests
How high do barber chairs go?
Barber chairs have varying height ranges, some can even go up to 30", others may be shorter. These chairs can often adjust to accommodate different heights, so check the chair's specifications before making your purchase.
Why Choose Aria Chairs?
Aria Chairs is a premium supplier of salon furniture and equipment worldwide. Our selection of barber chairs includes all of the features that professionals look for when outfitting their salons. We carry chairs from the top manufacturers in the industry to ensure that our customers are getting the highest quality products available on the market.