Buying an affordable or cheap pedicure chair should not mean that you need to accept a low-quality product for your investment. Your budget should not limit your vision for success. That is why Aria Chairs offers a selection of affordable pedicure chairs that we feel will bring you ultimate value for the price—especially if you're looking to grow your business without going into debt while doing so.
The U.S. nail salons industry, populated by nearly 28,000 small businesses, reached a value of $17.3 billion (when counting sole proprietor nail technicians not working in a retail facility) through 2019. The total market is forecast to rebound and grow after coming to a halt in 2019 followed by a sluggish 2020, with 9% average yearly growth through 2025, to a value of $22.6 billion, according to recent market data.
With that in mind, investing in a nail salon right now looks promising and profitable so long as you understand and consider some important factors, including the pedicure chair you choose. It's been said that your spa's pedicure chair very well may be your most important piece of equipment for your spa or salon—taking into consideration the needs and expectations of both your clients and your technicians.
Whether you're just starting out or looking to grow, investing in the right chair is crucial to the long-term sustainability and success of your business.
In a previous blog, we shared our top five picks for luxury pedicure chairs. Now we'd like to share five of our favorite high-value, cheap pedicure chairs for spa and salon owners who are looking to provide a memorable, high-quality client experience.
Whether you're looking for style, function, comfort, or durability—these five chairs come through with a reasonable price that that you can afford.
Five Affordable (Cheap) Pedicure Chairs
Stylish, space saver design
Amenities that add value
Comfortable and durable
Gulfstream Pedicure Chair, LA TRENTO
High-quality finishes
Cost-effective and environmentally friendly
IDJet technology
Continuum Pedicure Spa Chair, LE REVE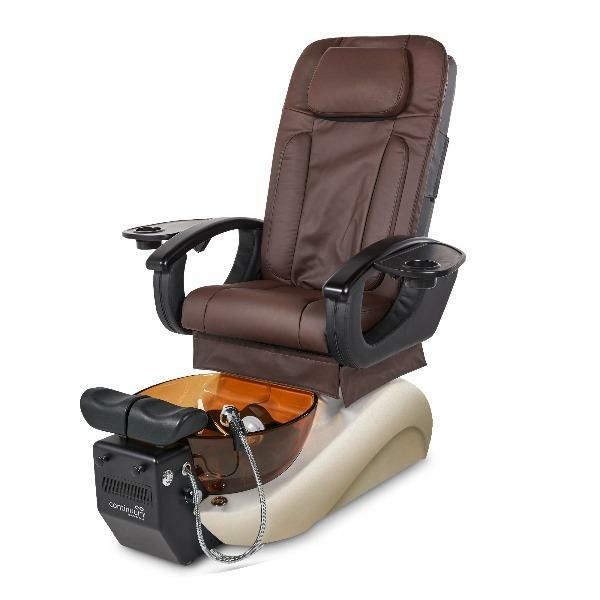 Sleek and modern
Quality built for durability
Fully electric adjustable with Shiatsu massage
Gulfstream Pedicure Chair, DAISY 3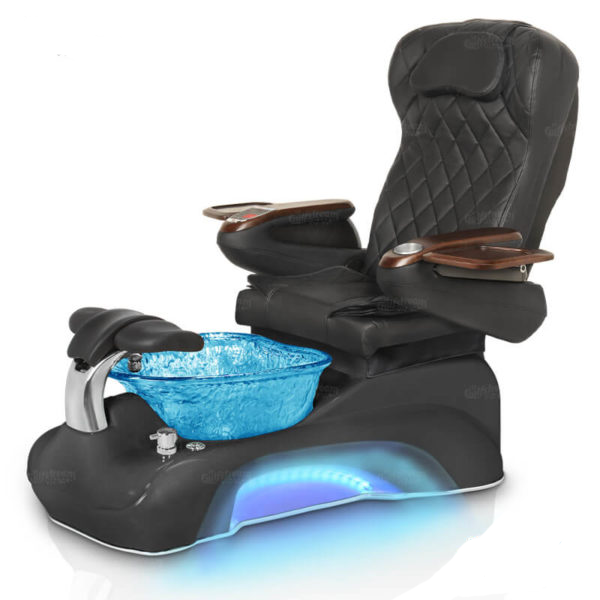 Modern look
Inviting and relaxing
Innovative integrated footrest
Gulfstream Pedicure Chair, AMPRO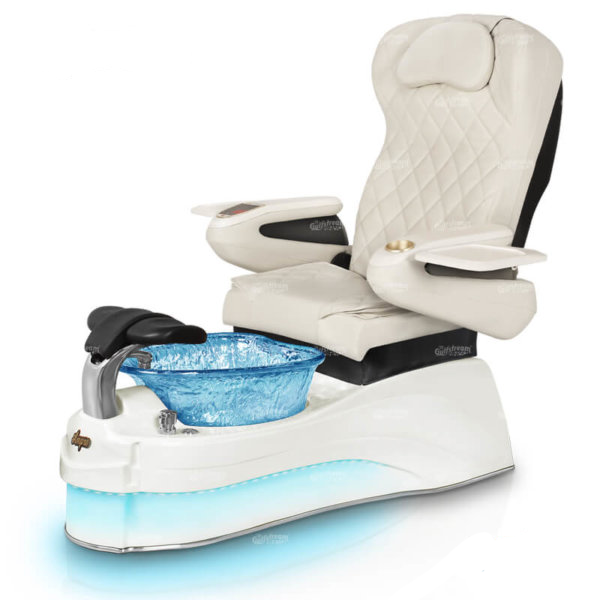 Sleek and modern style
Adjustable footrest for added comfort
Illuminated LED lighting
1. J&A Pedicure Spa Chair, EMPRESS LE
Benefits You'll Love
Beautiful, durable diamond-quilted PU leather (animal cruelty-free)
Easy clean up with satin chrome single-hand faucet with dual-function showerhead sprayer
Durable and long-lasting Ultra Jet Whirlpool
The combination of top-quality performance and an upscale look, but with a price point you can afford makes the J&A Empress LE Pedicure Spa Chair "the entire package" when it comes to cheap pedicure chairs.
Beyond their reputation as a high-end manufacturer, the J&A Empress LE Pedicure Spa Chair is part of a more affordable, mid-priced pedicure chair collection. So, you'll enjoy the benefits of offering your clients an elegant, luxury pedicure chair experience minus the hefty price tag!
The Empress LE Pedicure Spa Chair is constructed to "wow" with features and options to help make your spa or salon look extra luxurious. For starters, pre-combined color options for the dual-colored fiberglass base will make you smile. Whatever combination you choose, both include LED base lighting for added style.
Choose from six stylish upholstery color choices to match your spa or salon with soft fabric that is beautifully diamond quilted and easy to clean.
The details on the Empress LE are what put this chair over the top when it comes to great value. Your clients will have an easy time settling in thanks to wooden armrests finished in a satin cherry that will stay raised. The remote-control in a well-placed holder right at the end of the arm rest means no hunting around or getting tangled in messy cords when your client wishes to control the chair's recline and forward/backward movement as well as five Shiatsu massage options.
The Empress LE Pedicure Spa Chair features modern pipeless technology to give it longer life, enhanced by a beautiful, 4.5-gallon, resin pedicure bowl in the shape of a flower at full bloom. Complemented with the chair's LED lights, your clients will relish the relaxing water and light therapy right at their feet. Your technician will love the three-part footrest, which adjusts in the middle with a simple press of the button, ensuring your client is as comfortable as possible.
This inexpensive chair ships with a FREE pedicure technician stool in the color of your choice.
Learn more about the Empress LE Spa Chair.
2. Gulfstream Pedicure Chair, LA TRENTO
Benefits You'll Love
Ultimate sanitary foot spa thanks to IDJet Whirlpool system
Superior Shiatsu massage system with S-Track roller system conforms to the shape of the human spine
Convenient integrated footrest and USB and electrical outlet
The Gulfstream La Trento Pedicure Chair offers unique design and ultimate comfort making it perfect for spas and salons looking to stand out from the crowd. While the La Trento makes our list of cheap pedicure spa chairs, its high-quality finishes, large assortment of colors, and state-of-the-art Shiatsu roller back massage system scream style and quality from a name brand you know and trust. This full-feature unit is affordable and built to last—proving to be a good value in the long run.
If you're looking to enhance your client's experience with an out-of-this-world massage, The La Trento Pedicure Spa massage chair is your solution! The chair's Shiatsu massage system emulates the same back and spinal care methodologies used by professionals. How? An S-Track roller system in the shape of the human spine allows rollers to move up and down your client's back up to the neck for a comfortable and relaxing experience they will love. Your client can customize roller back functions to their exact liking simply by using a hand-held remote. Easy!
Looks are important when it comes to pedicure chairs and the Gulfstream La Trento affords you customizable, multiple design and 10 color print options to fit your spa or salon to perfection.
Function is important, too, which is why the Gulfstream La Trento Pedicure Spa features acetone resistant arm rests and manicure trays, integrated on both sides. High-quality, sturdy polished chrome legs and heavy-duty casters come standard.
Because the La Trento's durable acrylic base is made using only the finest high-gloss and impact-resistant acrylic, you won't waste time having to scrub hard to keep it looking like new. The pedicure spa bowl includes the IDJet whirlpool system to provide you with the ultimate in freshness and safety. It's also easy to remove and clean with its magnetic locking system.
Learn more about the Gulfstream LA TRENTO Chair.
3. Continuum Pedicure Spa Chair, LE REVE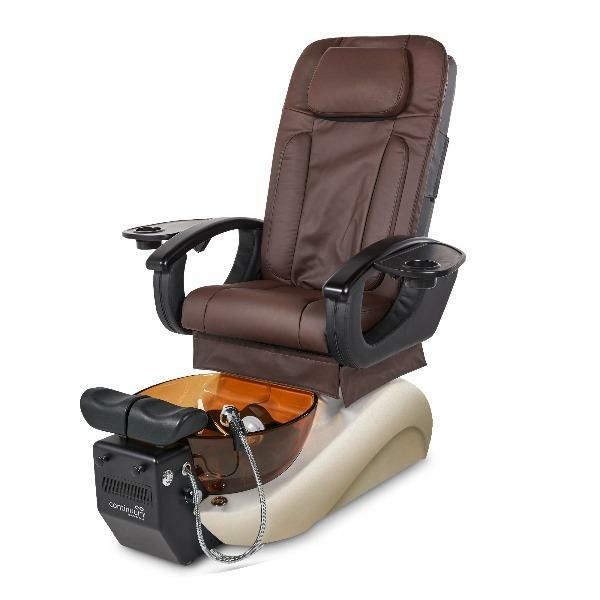 Benefits You'll Love
Meet local building requirements thanks to an integrated air ventilation system that can easily be connected to your system
Achieve ultimate in strength and stability due to a welded steel frame
Sanitation is a breeze thanks to a magnetic pipeless jet system
You can't go wrong with the award-winning Continuum® Pedicure Co. with its sleek and modern design securely supported by a welded steel frame making our third cheap pedicure chair a contender at the intersection of stunning style and quality meets ultimate value.
The Le Rêve Pedicure Chair's whisper Jet magnetic pipeless jet motor means your clients can fully relax without the sound of an annoying motor to distract them. Your technicians will appreciate it because the system is easy to remove and easy to sanitize after each pedicure making their schedule less hectic and freeing up to better prepare between clients.
The Le Rêve's resin basin is available in two colors and rests nicely in an acetone-resistant fiberglass base available in white, black, or elegant champagne for a subtle pop of color.
Your clients will thoroughly enjoy sliding into the chair with convenient arm rests that swing upward for easy access and right into cushy hand-upholstered 100% PU leather, available in four inviting contemporary colors.
Once settled, your client can lean back using the chair's reclining electric back and enjoy a full Shiatsu massage, which they can customize using a handy remote control.
Your technicians will enjoy the well-placed acetone resistant manicure tray with cupholder while they work on your clients in a pedicure chair that allows them to do their best work.
You'll find peace of mind knowing that each Continuum pedicure chair is inspected and tested by a certified master plumber prior to packaging—and all pedicure spas are designed, engineered, and assembled in the USA.
Learn more about the Continuum Le Reve.
4. Gulfstream Pedicure Chair, DAISY 3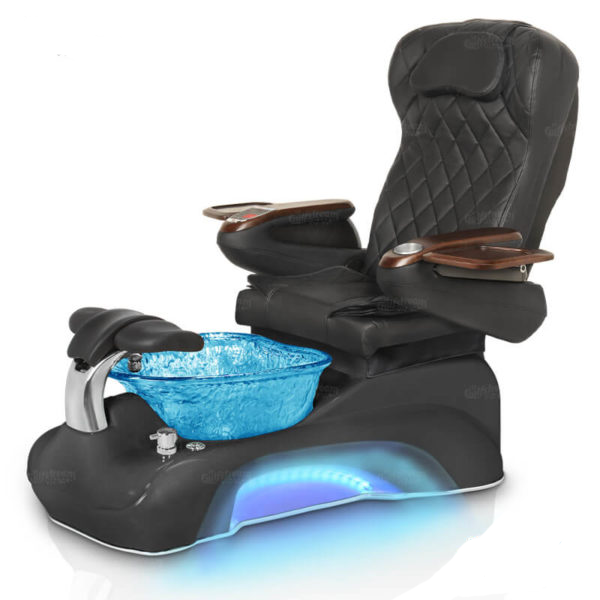 Benefits You'll Love
Relaxing color therapy mood lighting system
Applies the right amount of pressure with a state-of-the-art Shiatsu roller back massage system
Angled footrest to provided added comfort for clients and technicians
The rockstar of affordable pedicure chairs, the Gulfstream Daisy 3 Pedicure Chair offers you everything and more with an exciting modern look to fit any spa or salon, a cool color therapy mood lighting system to calm and relax, massage remote control conveniently built into the armrest, dual-USB and electrical outlet, and purse hooks.
The Daisy 3 features a gorgeous glass water basin available in an array of bright, beautiful colors from Clear to Rainbow to make a statement that suits your space.
Removable manicure trays are stored on the side of the armrest. A hand sprayer is located under the integrated, adjustable footrest, keeping the look trim and neat. Gulfstream's own IDJet Whirlpool System works to circulate the water massage.
This inexpensive, yet well-appointed pedicure spa and massage chair feels even better than it looks, thanks to comfortable padding and a full Shiatsu massage system to provide rolling, compression, kneading, percussion, and more. Clients won't feel a thing when you move the chair forward or backward without disturbing them thanks to a front-mounted technician control.
The easy-to-use Gulfstream IDJet Whirlpool System keeps clients safe and makes clean up in between appointments simple and fast keeping technical on schedule throughout the day.
And if all of that isn't enough, the Gulfstream Dairy 3 pedicure spa ships with a FREE, matching technician stool!
Learn more about Gulfstream Daisy 3.
5. Gulfstream Pedicure Chair, AMPRO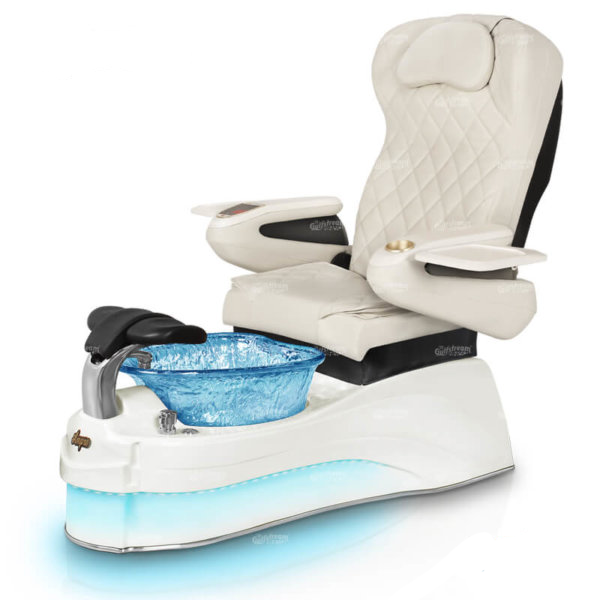 Benefits You'll Love
Illuminated LED light hugs the unit's contour resulting in a beautiful sleek look
Achieve compression, kneading, percussion, rolling, and more using the chair's Shiatsu roller back system
Massage controller is built into the chair arm
The Ampro Pedicure Spa Chair from Gulfstream features everything you need to provide your clients with an unforgettable experience they'll love.
Priced cheap, the Gulfstream Ampro invites users to relax into its sleek new slimline design which is cleverly illuminated by LED lights which hug its contours. A versatile footrest makes for a comfortable experience for both your client and your technician. Accessibility and durability can be found from top to base on this full-service chair built to wow and available for purchase on the cheap.
If comfort and support is what you're looking for, you've come to the right place. The Gulfstream Ampro offers quality, soft, and supple ultra leather and is well padded to keep its occupant cozy. Its front-mounted technician control means your client won't be disturbed when you move the chair forward or backwards. Easy to work with, easy to enjoy!
What's more, the Ampro comes with a customizable Shiatsu roller back massage system designed to apply all the right pressure to all the right places. Best part is, your client can customize their experience using a convenient hand-held remote, which when not in use can be stored nicely into the arm of the chair. They'll enjoy a handy cup holder as well.
Both you and your clients will appreciate the beauty of Gulfstream's signature large hand-crafted glass bowl with a variety of vibrant and fun colors to choose from, as well as a durable acrylic base that comes in black, pearl, or cappuccino to match your salon's style.
You won't find a more powerful system to remove and clean than the Gulfstream IDJet Whirlpool System with its magnetic locking system. Not only is it a breeze to remove, but it's simple to clean, ensuring your pedicure chair is easy to maintain and keep sanitized between clients.
Learn more about the Gulfstream AMPRO

We understand that choosing a pedicure chair can be difficult. If you're still not finding what you're looking for or have any questions chat, call, or email us: +1 888-454-2742 | hello@ariachairs.com. Our friendly customer service will be happy to help you find the right pedicure chair to suit your needs.
FAQ
What is a pedicure chair?
A pedicure chair is a type of seating with an attached soaking basin (or bowl) found in a salon or spa designed to enable a technician to safely and comfortably perform foot and nail care for a client, including foot exfoliation, hydration, massage, as well as the shaping and treating of toenails.
How do I choose an affordable pedicure chair?
When choosing an inexpensive pedicure chair, you should consider the quality (will it last), style of your space, comfort for both technician and client, useful features and accessories, and sanitary plumbing that is both safe and cost effective.
How do pedicure chairs drain?
A discharge pump or drain pump works to expel dirty water from a pedicure chair using an electric motor which adds force to the wastewater allowing it to circumnavigate gravity and avoid a messy back up.
Are pedicure chairs sanitary?
Modern pipeless pedicure chairs are more sanitary than old fashioned pedicure chairs because they are easier to clean, safer, and more compliant as they do not use pipes that can quickly become filled with bacteria due to leaks and clogging, but instead rely on underwater jet fans to circulate the water, creating a massage jet stream.