How To Choose the Best Top-Quality Pedicure Chairs for your Salon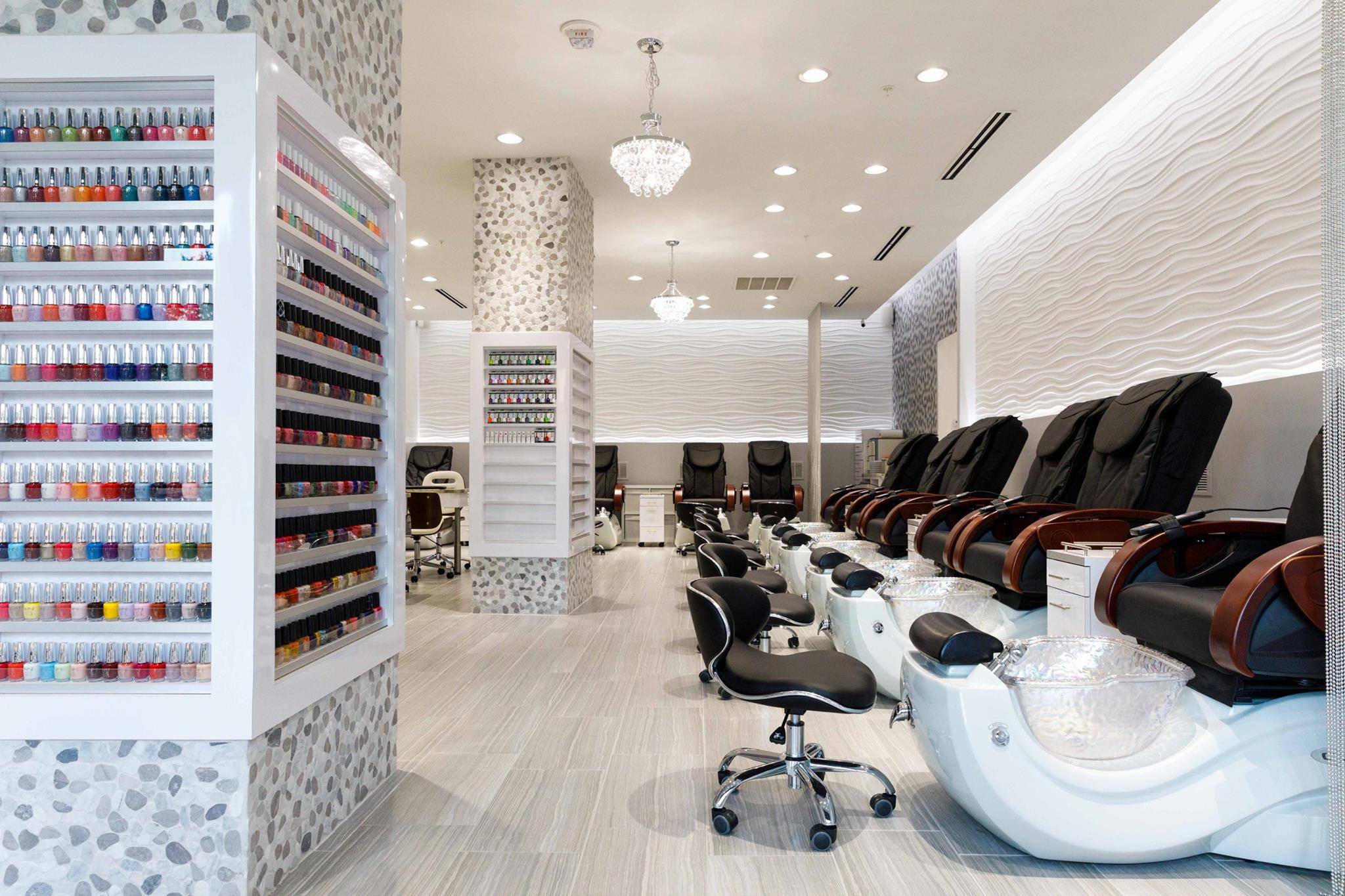 Pedicure chairs are an essential part of any salon and as a salon owner, choosing the right pedicure chairs is crucial. After all, not only do they need to be comfortable for your clients, but they also need to help your technicians perform their job efficiently, be durable, and fit with your salon's style. On top of that, you also need to ensure that your investment is wise.
With so many options available in the market, it can be overwhelming to choose the best one. In this article, we will provide you with tips to help you choose the best pedicure spa chairs for your salon: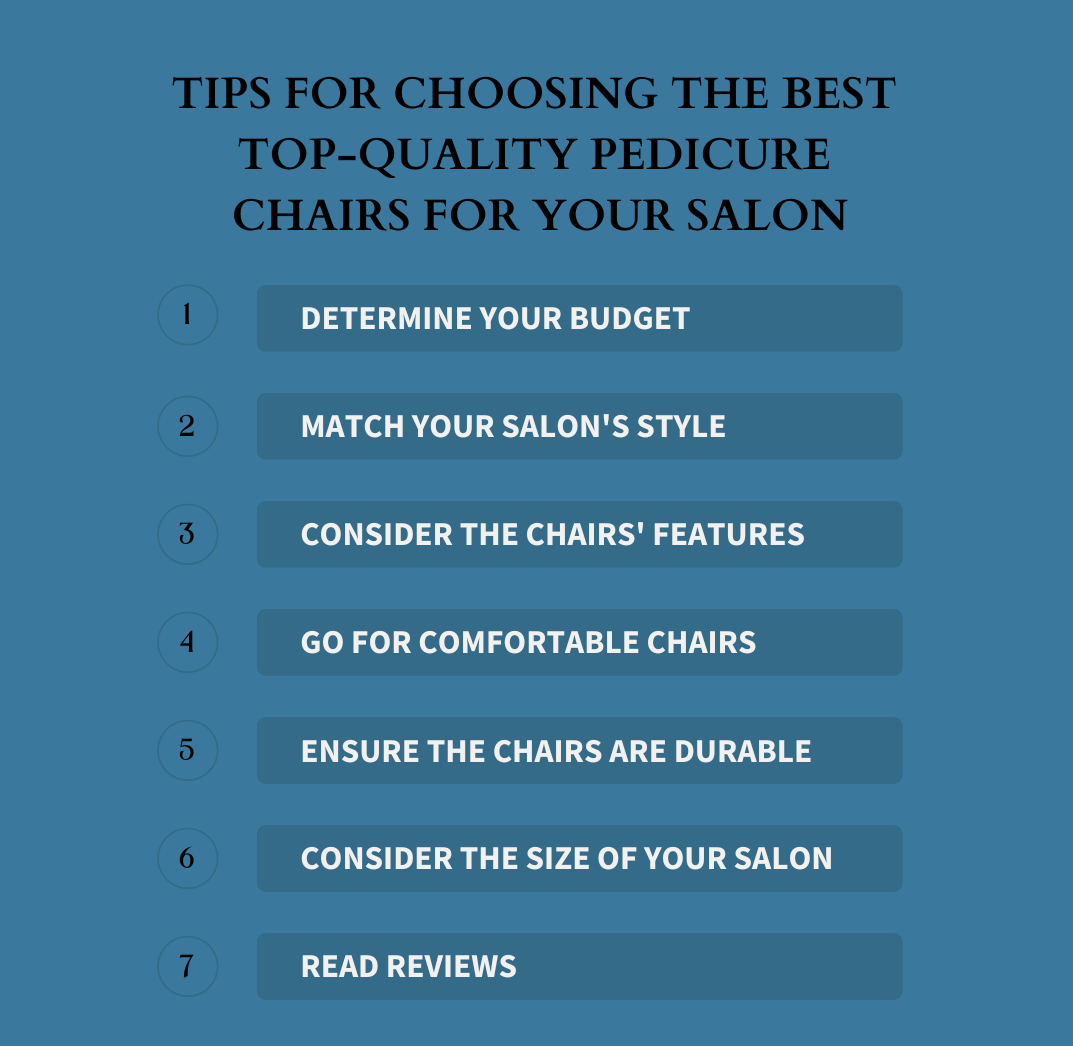 1. Budget
Before you start shopping for pedicure chairs, it's important to determine your budget. Our pedicure chairs range in price from $2400 - $7500, consider how much you're willing to spend and how many chairs you need. Remember that it's better to invest in high-quality chairs that will last for years rather than cheap chairs that need to be replaced frequently. You'll also need to consider the cost of installation, maintenance, and repairs. Some of the more affordable pedicure chairs that we have listed are; Continuum Le Reve, ANS Waverly, ANS Celeste, and ANS Ceneta.
2. Style
Pedicure chairs come in a range of styles, and it is essential to choose pedicure chairs that complement your salon's overall style and aesthetic. If you have a modern, minimalist salon, you may want to choose sleek, simple chairs. If you have a more traditional salon, you may want to select chairs with ornate details and plush upholstery. All in all, look for chairs that complement your salon's decor and create a cohesive look.
3. Features
Pedicure chairs come with a range of features, and it is essential to choose chairs that offer the features that are relevant to your salon. Some of the features to look for include:
Massage Function - Some chairs come with a massage function that provides additional comfort to the clients.
Jet System - An inbuilt jet system can provide a relaxing foot spa experience to your clients.
LED Lighting - LED lighting can add a unique touch to your salon and create a relaxing ambiance.
4. Comfort
Your clients will spend a significant amount of time in your pedicure chairs, so it's important to choose chairs that are comfortable. Look for chairs with plushly padded seats and backs, adjustable footrests, and built-in massage functions. The chairs should be able to accommodate clients of different sizes and should have a smooth recline and incline function. For added comfort, some chairs are able to swivel 360 degrees and even come with built-in heaters or cooling systems.
5. Durability
Pedicure chairs are a significant investment for any salon, and it is essential to choose chairs that are durable and long-lasting. Look for chairs made of high-quality materials such as wood, stainless steel and leather or vinyl upholstery. The chair should be able to withstand the wear and tear of regular use and should be easy to clean and maintain. Additionally, look for chairs with warranties to ensure that you are protected against any defects or damages.
6. Salon's Size
The size of your salon also plays a role in choosing the right pedicure chairs; make sure to select pedicure chairs that will fit comfortably in your salon. Consider the layout of your salon and how many chairs you can comfortably fit. We advise you to measure the space where you plan to place the chairs and ensure there is enough room for your clients to move around comfortably. You should also factor in space for the chair recline; some manufacturers recommend 15" extra space. You may want to consider chairs with a small footprint if you have limited space.
7. Reviews
Before making a purchase, read reviews from other salon owners who have purchased the same chairs. Look for reviews that mention comfort, durability, and ease of assembly. You may also want to research the manufacturer to ensure that they have a good reputation for quality and customer service. Some top Pedicure Chairs Manufacturers are J&A, Gulfstream, Whale Spa, ANS, Belava, Continuum, and LEC.
Popular Top-Quality Pedicure Chairs:
Wondering what the best pedicure chair for salon or what the best pedicure chair on the market? While there are a variety of popular top-quality pedicure chairs available on the market, four of the undeniable best options include:
1. J&A Pedicure Spa Chair, CLEO G5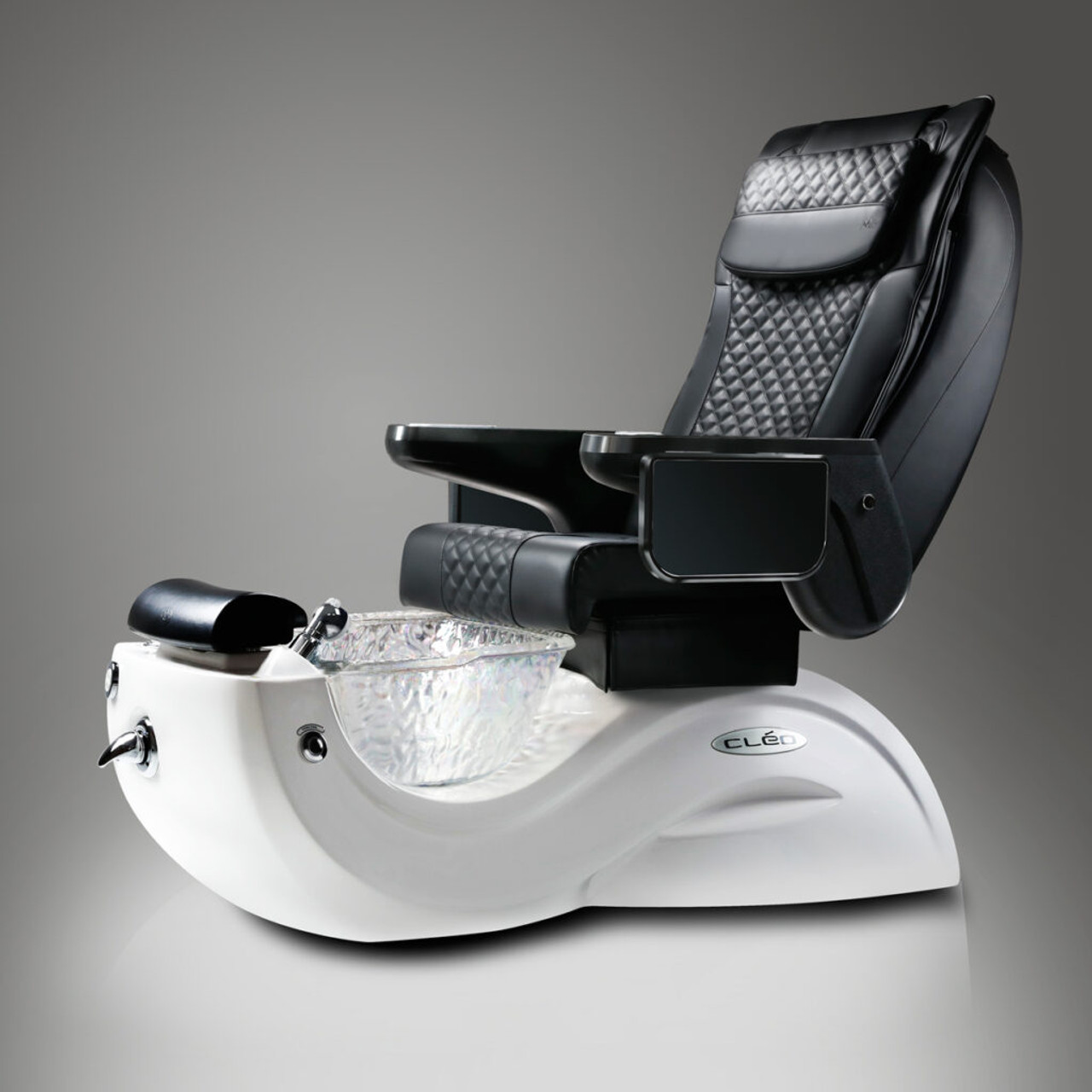 2. Gulfstream Pedicure Chair, Super Relax 2
3. Whale Spa No-Plumbing Pedicure Chair, PURE II PORTABLE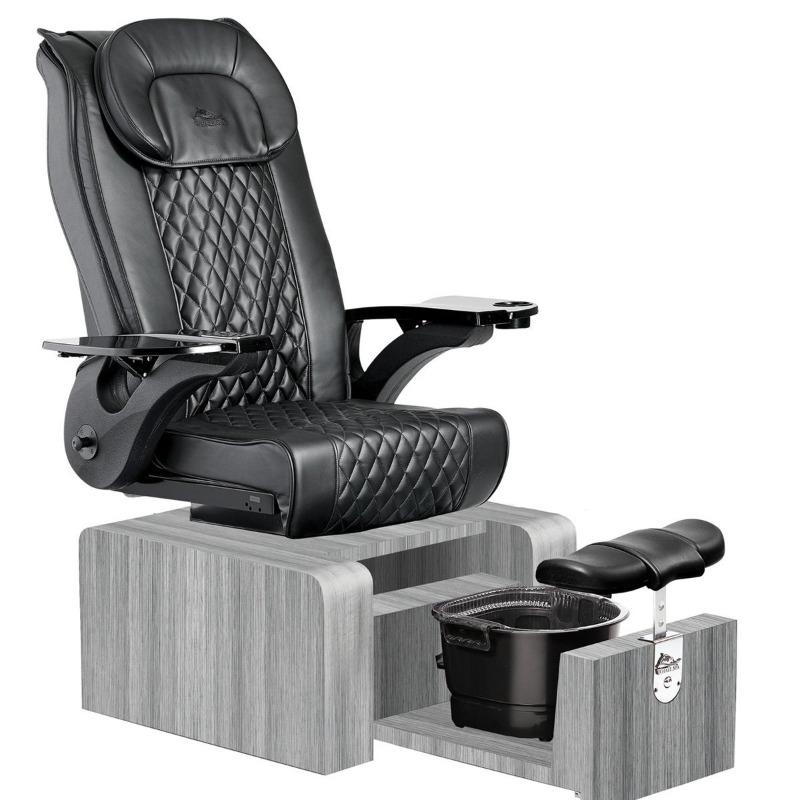 4. Belava No-Plumbing Pedicure Spa Chair, IMPACT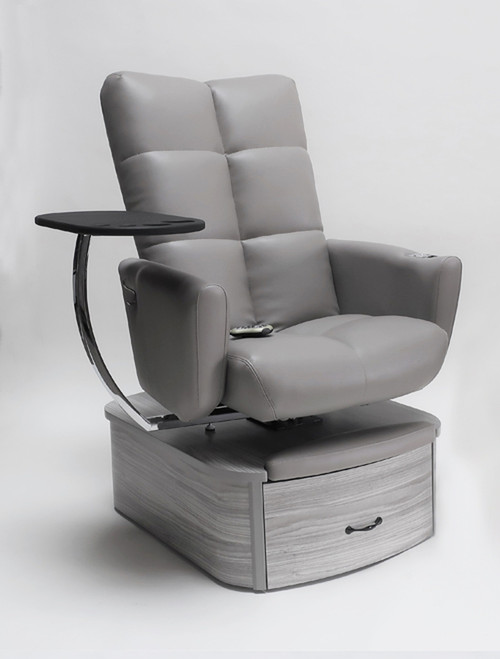 Conclusion
Choosing the best top-quality pedicure chairs for your salon requires careful consideration. Determine your budget, consider your salon's style, look for comfort features, check for durability, consider the size of your salon, and read reviews before making a purchase. By following these tips, you can choose pedicure chairs that will provide your clients with a comfortable and luxurious experience while also making a wise investment in your salon. After choosing your best pedicure chair for salon or your best spa pedicure chair, be sure to check out the rest of our vast catalog. Make sure you browse our Pedicure Spas & Bowls, Pedicure Bench Spas, Kid's Spa Chairs, Manicures, Nail Salon Furniture, and Nail accessories and Equipment collections for many more products.
Need assistance while shopping? Our team of customer service experts is just a call or email away. Contact us at (888) 454-2742 or hello@ariachairs.com anytime, and we'll be happy to help. Whether it's via online chat during business hours or email around the clock, we're always available to answer any questions you may have. Rest assured that we'll promptly research your query and provide a response on the same day or within one business day. Shop with confidence knowing that our reliable and friendly team has got your back!
FAQs
What should I look for in a pedicure chair?
When looking for a pedicure chair, there are several factors to consider:
Consider the level of comfort the chair offers. Look for a chair with ample cushioning and adjustable features like height and tilt.
Consider the chair's features, such as massage functions, heating options, and built-in foot baths.
Consider the chair's durability and ease of maintenance.
Finally, think about the overall style of the chair and how it will fit in with the decor of your salon or spa.
How high should a pedicure chair be?
A pedicure chair should ideally have a height range of 15" - 16.7" from the ground to the top of the seat. It is important to consider comfort when choosing a pedicure chair, and having an ergonomic design with extra firm back support and seat cushion can help ensure the customer's comfort. Additionally, durability and maintenance should be considered when selecting a pedicure chair. It is recommended to have a rough-in of 3" minimum Hub Drain, with both hot and cold supply lines located in the standard through-floor installation.
What is the difference between a pipeless pedicure chair and a standard pedicure chair?
The main difference between a pipeless pedicure chair and a standard pedicure chair is the jets. A standard (traditional) pedicure chair has a pump and a network of pipes to create massaging jet streams; while a pipeless pedicure chair has a whirlpool jet that doesn't use any pipes that creates a massaging jet stream for clients feet. These jets are easily removable for cleaning.
When it comes to choosing between a pipeless pedicure chair and a standard pedicure chair, it ultimately depends on personal preference and budget. However, most people prefer pipeless pedicure chairs because they're easier to clean, safer, more compliant, and customer friendly.
How much weight do pedicure chairs hold?
Pedicure chairs can average handle around 250-350 pounds, but weight limits vary depending on the model and manufacturer. The highest weight limit for salon chairs is typically about 450 pounds, but some chairs can support a weight of up to 500 pounds.