What Are The Best Shampoo Backwash & Sidewash Units In 2023? Here are our Top Picks
At Aria Chairs, we understand the importance of providing your clients with a comfortable and enjoyable experience during their visit to your hair salon. One way to achieve this is by investing in high-quality shampoo stations. Shampoo stations not only provide a practical solution for washing hair, but they can also enhance the overall aesthetic of your salon. In this article, we will introduce you to the top 2023 shampoo stations (sidewash and backwash shampoo units) that are guaranteed to elevate your customers' experiences.
Whether you're looking for a backwash or sidewash setup, we've got you covered. Wondering what the difference between a backwash or sidewash setup is? The main difference is the positioning of the stylist. The stylist stands at the back for a backwash shampoo station and the stylist stands at the side for a sidewash shampoo station, the sidewash layout is considered the more traditional one. Additionally, a backwash setup is plumbed through the back of the unit while a sidewash setup is plumbed from the floor through the side of the unit.
Best 2023 Shampoo Stations Comparison Chart
We have compiled a comparison chart of the 2023 shampoo stations below. The diagram illustrates the specifications (backwash, sidewash, shampoo bowl material, shampoo bowl colors, upholstery, upholstery colors, laminate, and laminate colors) and options (vacuum breaker, hair trap, mixing valva kit, protective chair cover, and add a stool) of each station.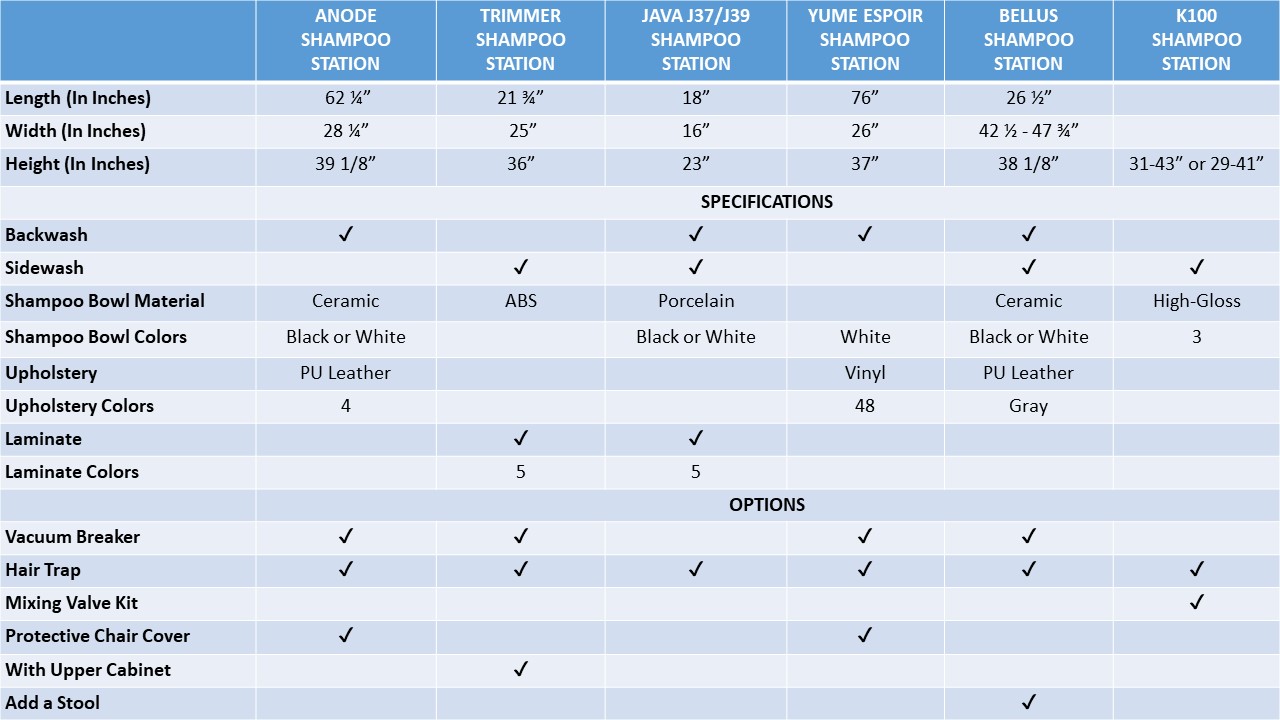 Using the above table, you can make comparisons and make an informed decision about the shampoo station best suited for your hair salon's needs.
Now, let's dive in and explore the best options for your salon!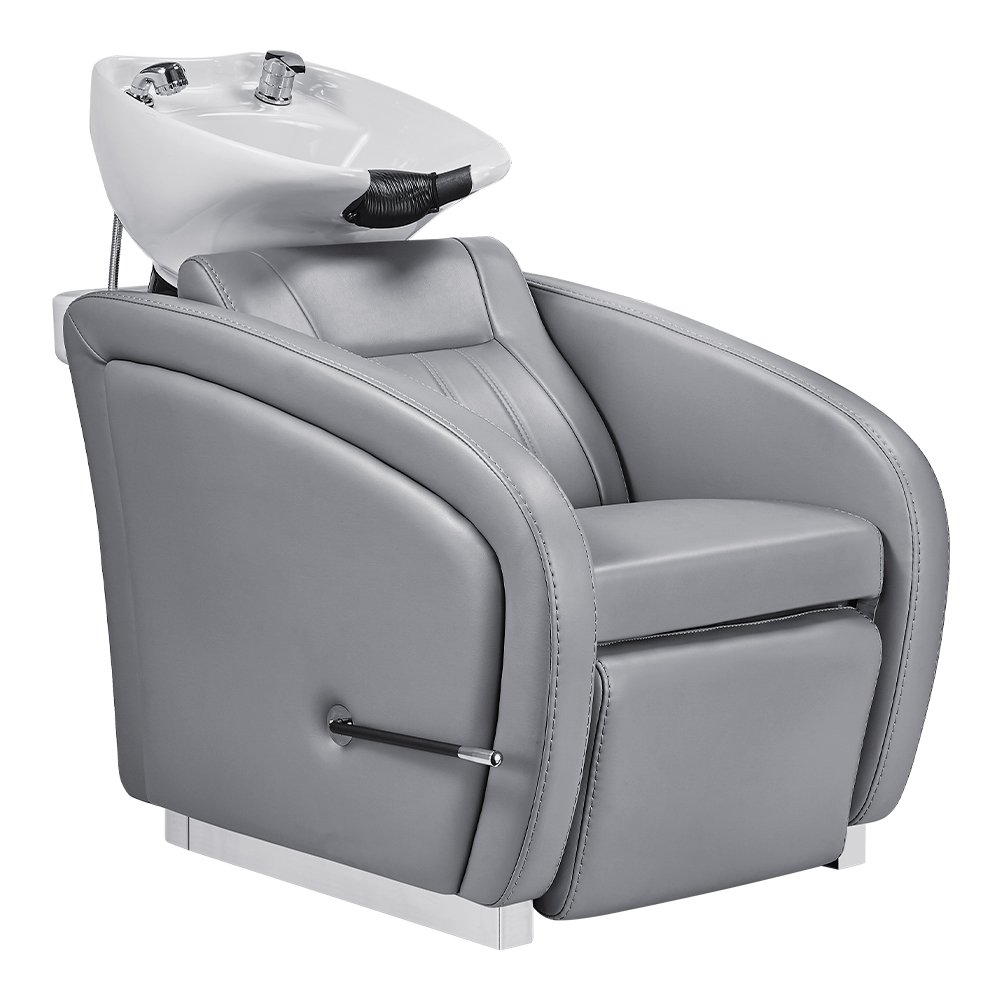 One of the top picks for shampoo stations is the DIR Shampoo Station/Backwash Unit Anode, which has a striking design and is to provide clients with a comfortable and relaxing experience.
The Anode Shampoo Station has a reinforced, solid steel frame that supports the chair and basin and features a deep tilting ceramic sink that is easy to clean and maintain. It has comfortable high-density memory foam cushioning and is upholstered with high-grade, easy-to-clean faux leather. The Anode Backwash Unit has remote controlled electrical leg-rest and is plumbing accessible for both backwash or side-wash setups.
Benefits You'll Love:
Reinforced, solid steel frame supports the chair and basin
Remote-controlled electrical leg rest for client comfort and convenience
Upholstered with high-grade faux leather that's easy to clean and maintain
Plumbing is accessible for both backwash or side-wash setups
Includes sprayer, faucet, sink strainer, silicon neck rest, water supply line, and drainpipes
One of our dear clients, Claire B gave the anode a rave 5-star review saying; "My clients are all having rave reviews of my new chairs. They feel so comfy and at home while taking a ride in my "Cadillac" of chairs." Purchase your Anode today!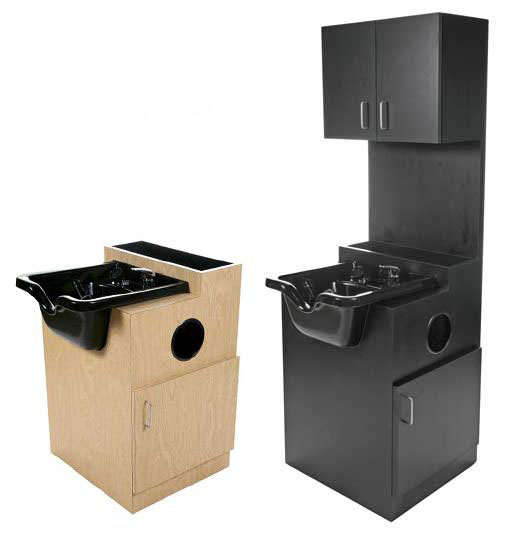 The Jeffco Trimmer Shampoo Sidewash Station has a compact and functional design guaranteed to make the hair salon shampoo process easier for clients and stylists alike. With a width of 25", the Trimmer Shampoo Station from Jeffco Salon Equipment will fit into the smallest of salons. Behind the shampoo bowl is a well to hold your necessary shampoos, conditioners, and other supplies. Further, on the side of the unit is a hole to quickly toss in used towels accessible with the door below.
If you would like a place to store your clean towels choose the Tall Trimmer, which also includes a backsplash. Both Trimmer versions are made to fit the 8300, 8400, or 8900 ABS Shampoo Bowls.
Benefits You'll Love:
Compact - narrow 25" design fits small spaces
Has a bottle well to hold necessary shampoos, conditioners, and other supplies
Station has a hole on the side for tossing in used towels
Manufactured in the USA
Design your station - sink cabinet only or upper cabinet as well
Choose your ABS sink that ships complete with faucet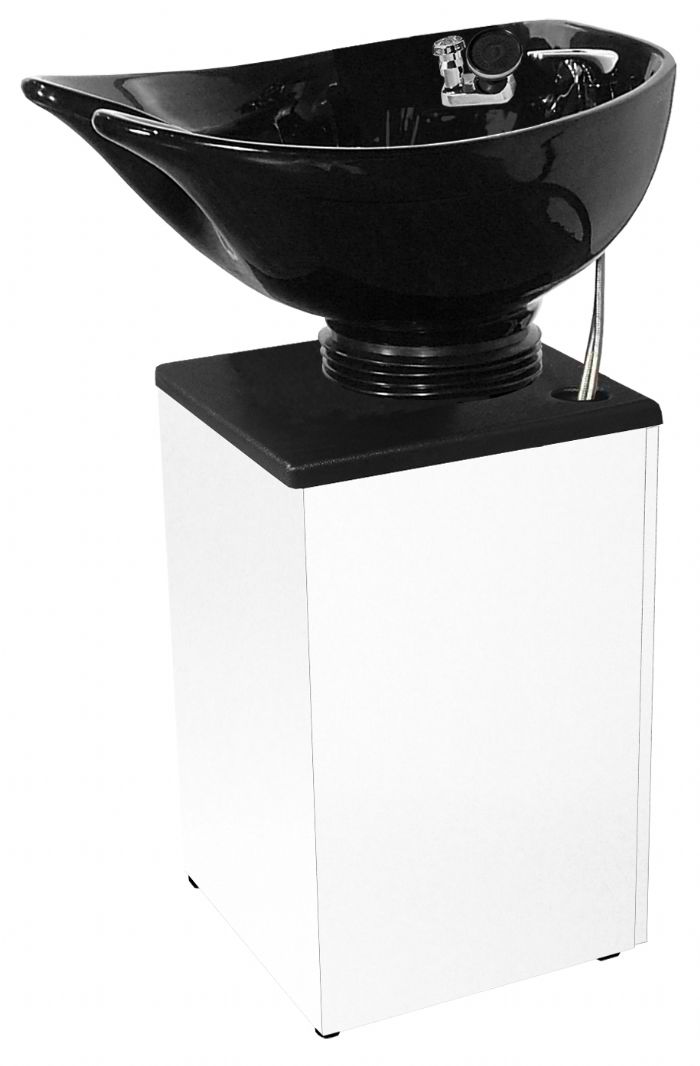 The Java J39 Pedestal Backwash Shampoo Station from Jeffco Salon Equipment is a modern functional design. The 16" x 16" cabinet has a hinged plumbing-access door and is free-standing. Jeffco Salon Equipment suggests installing this uniton 32" centers. The J39 (plumbed from the floor) can be ordered as a cabinet only or with the 8600 or 8700 Tilting Porcelain Bowl, which includes fixtures & a vacuum breaker.
The J37 Pedestal Sidewash Shampoo Station is plumbed from the wall or bulkhead and can also be ordered as a cabinet only or with the 8200, 8600, or 8700 Tilting Porcelain Bowls which include fixtures and a vacuum breaker.
Benefits You'll Love:
Pedestal cabinet can be freestanding and used as a backwash or mounted to the wall for a side wash
Has a plumbing access door
Manufactured in the USA
Order cabinet only or with a tilting porcelain shampoo bowl and fixtures
Available in 5 lovely laminate options to enhance your décor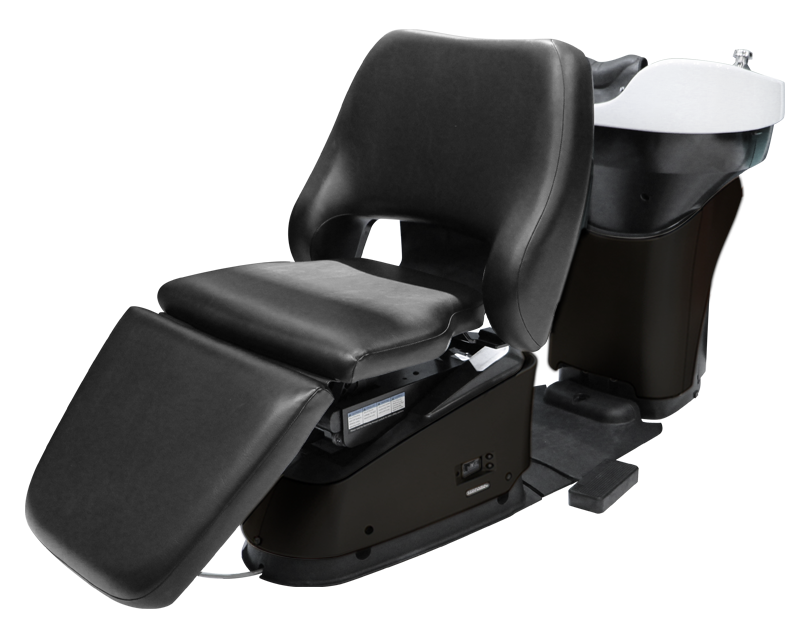 Treat your clients to a remarkably luxurious experience with the ultra-modern Takara Belmont Yume Espoir Shampoo Station, which offers unparalleled comfort to clients and exceptional ease of maneuverability to stylists. The Yume Espoir offers world-class functionality that will turn your shampoo bowl into a versatile and multi-functional area guaranteed to create new income possibilities for your salon.
The Yume Espoir has a motorized lift system with a full reclining ability controlled by a one touch reclining technology. Ultra-comfortable, it is ergonomically designed, has a luxuriously cushioned lounge chair, and has a plush and well-padded neck pillow. It is upholstered in high-resilience durable vinyl. It has a highly functional basin; the drainage pipe is equipped with ventilating valves, it has an easy-to-use faucet fittings layout, and the showerhead is also adjustable with shower mode and a low splash foaming mode.
Benefits You'll Love:
Motorized lift system - has full reclining ability controlled by a one touch reclining technology
Comfortable - ergonomically designed lounge chair with luxurious cushioning for maximum client relaxation
High resilience and durable vinyl upholstery - easy to clean and maintain
Functional basin - ventilating valves, easy-to-use faucet fittings layout, temperature control knob, and adjustable showerhead
Basin has two head cushions and a neck cushion to comfortably support clients' heads
Superior craftsmanship meets comfort and functionality in the top-selling DIR Bellus Shampoo Station, a must-have for any salon or parlor.
The Bellus hair washing station has a well-constructed tilting ceramic backwash shampoo sink with a comfortable silicon neck rest. The chair has a body contouring ergonomic design and features high-density memory foam for maximum client comfort. It has high gloss finish chrome arms, is upholstered in high-grade faux leather, and has a superior quality and durable PVC base. Last but not least, it offers plumbing access for both backwash or side-wash setups.
Benefits You'll Love:
Comfortable - seat features high-density memory foam, and the backwash shampoo bowl has a silicon neck rest for maximum client comfort
Upholstered in high-grade faux leather that's easy to clean and maintain
Forward and backward sliding seat with high gloss finish chrome arms
Superior quality and durable PVC base with a matte finish for long-lasting use
Plumbing access for both backwash or side-wash setups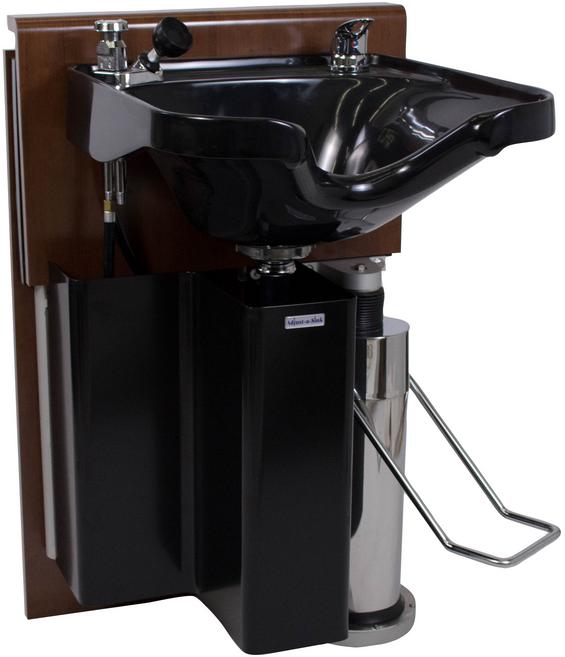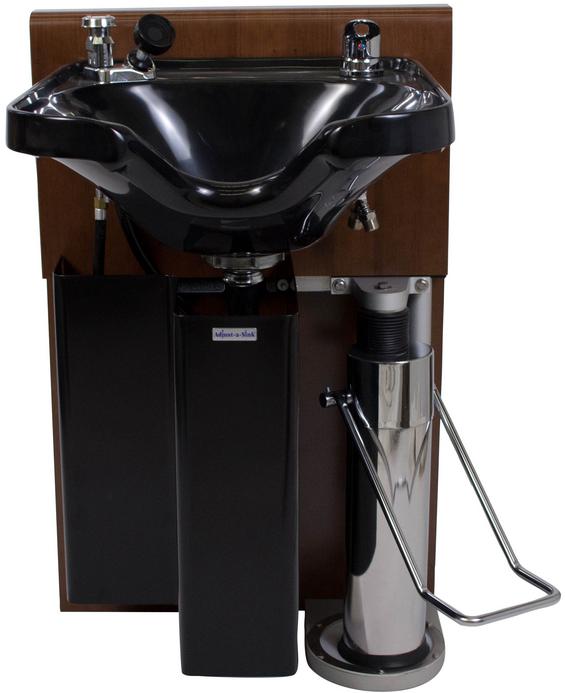 The Adjust-A-Sink Wheelchair Accessible Salon Shampoo Sink, K100 is a unique shampoo station designed for clients with mobility issues. It has a sink that can be adjusted to accommodate clients in wheelchairs, making it easier for them to receive salon services. Whether your client is in a wheelchair or a traditional salon chair, the Adjust-a-Sink hydraulic lift will raise or lower the shampoo bowl to comfortably fit them. They will remain in a position that allows them to sit as upright as possible and lets their weight be evenly distributed throughout the body, alleviating pressure on the neck and lower back.
The Adjust-a-Sink® System elevates the shampoo bowl 12". Therefore, the distance from the floor to the top of the shampoo bowl ranges from approximately 34" to 46". A self-contained, maintenance-free foot-operated hydraulic lift provides the lift capacity needed to raise the shampoo bowl. The hydraulic lift's foot pedal can rotate approximately 90 degrees to the side anytime the operator requires it. The wheelchair-accessible shampoo sink is ideal for senior living salons, providing a dignified experience for patrons. Components are manufactured from the highest-grade materials and should provide years of trouble-free service. The unit includes a single lever faucet with a whiz sprayer and ASSE 1001 vacuum breaker.
Benefits You'll Love:
Wheelchair accessible shampoo sink is vertically adjusted 12" to accommodate a broad range of statures
Comfort Fit #3050 Solid Surface Bowl is specifically designed to fit smaller wheelchairs closer to the sink
Intuitive, easy-to-use foot pump adjusts the height of the bowl
Patented telescopic plumbing meets ASME/UPC standards. Listed with IAPMO, file #5496.
Includes a single lever faucet with whiz sprayer and ASSE 1001 vacuum breaker
Conclusion
In conclusion, having a quality shampoo station in your salon is essential to providing your clients with a comfortable and luxurious experience. It can also make your hair stylists' jobs easier by providing them with the necessary maneuverability to perform their duties efficiently. Additionally, having a top-tier salon backwash station can enhance the overall aesthetic of your salon and make it more inviting.
The different shampoo stations/shampoo sinks for salons cater to different salon needs, from basic hair wash stations to luxurious salon wash stations. The must-have shampoo units mentioned in this article are an excellent investment for any salon looking to elevate its clients' experience. And the best part? Their prices have a healthy range; $684 (Java), $800 (Bellus), $1,092 (Trimmer), $1,168 (Anode), $6,707 (K100), and $9,000 (Yume Espoir) allowing you to choose the one that best fits your budget.
Visit Aria Chairs to browse our vast and top-tier shampoo station collection to find the perfect shampoo station - back or side wash for your salon. Our expert, dependable, and friendly customer service team is available during business hours through online chat or phone at +1 888-454-2742; you can also email us 24 hours at hello@ariachairs.com.
FAQs
What is the Best Shampoo Backwash Unit for Home?
Portable shampoo bowls are best for at-home use because they are designed to be lightweight and easy to move. They typically come with a built-in drain and hose that can be connected to a nearby sink. A great shampoo bowl for use at home is the Deco Pedestal Shampoo Bowl, DORIC.
What are the Pros and Cons of Shampoo Stations?
The Pros are:
Convenience and Efficiency - Shampoo stations offer a convenient and efficient way to wash and rinse hair. They are designed to make the process quick and easy, allowing stylists to move from one client to the next without delay. The built-in sink and faucet also mean that stylists do not have to leave the styling area to wash hair, saving valuable time.
Comfort and Ergonomics - Using a shampoo station can be more comfortable for clients than leaning over a sink in a traditional bathroom. The ergonomic design of these units allows clients to sit back and relax while their hair is washed. This is also beneficial for stylists, as it reduces the strain on their back and neck.
Cost-Effectiveness - Shampoo stations can be a cost-effective solution for salons. They are typically less expensive than other washing options, such as full salon wash stations. Additionally, they require minimal plumbing and installation, making them a low-maintenance option.
The Cons are:
Water Splashing - One of the biggest downsides of using shampoo stations is the potential for water splashing and messes. Clients may accidentally move or jerk their head, causing water to splash onto the floor or nearby equipment. This can be especially problematic if the salon has carpet or other flooring that is difficult to clean.
Limited Space and Storage - Shampoo stations can take up a lot of space in a salon, which can be a problem for smaller businesses. They also offer limited storage options for towels, shampoo, and other supplies. This can lead to cluttered workspaces and an unprofessional appearance.
Hygiene Concerns - Shampoo stations require regular cleaning to reduce the risk of bacterial and fungal growth. If not cleaned properly, these units can become a breeding ground for germs and other harmful bacteria. This can be a significant concern for salons that are not diligent about cleaning and disinfecting their equipment.