Pipeless Pedicure Chair Vs No Plumbing Pedicure Chair - What's the Difference?
Introduction to Pedicure Chairs
Pedicure chairs have become essential equipment in any salon that offers pedicure services. These chairs have come a long way since their inception in the early 1900s, from simple wooden stools and basins to the modern, high-tech chairs we see today. Pedicure chairs are designed to provide an ergonomic and comfortable experience for the client while also making it easier for the technician to perform the service.
What are Pipeless Pedicure Chairs?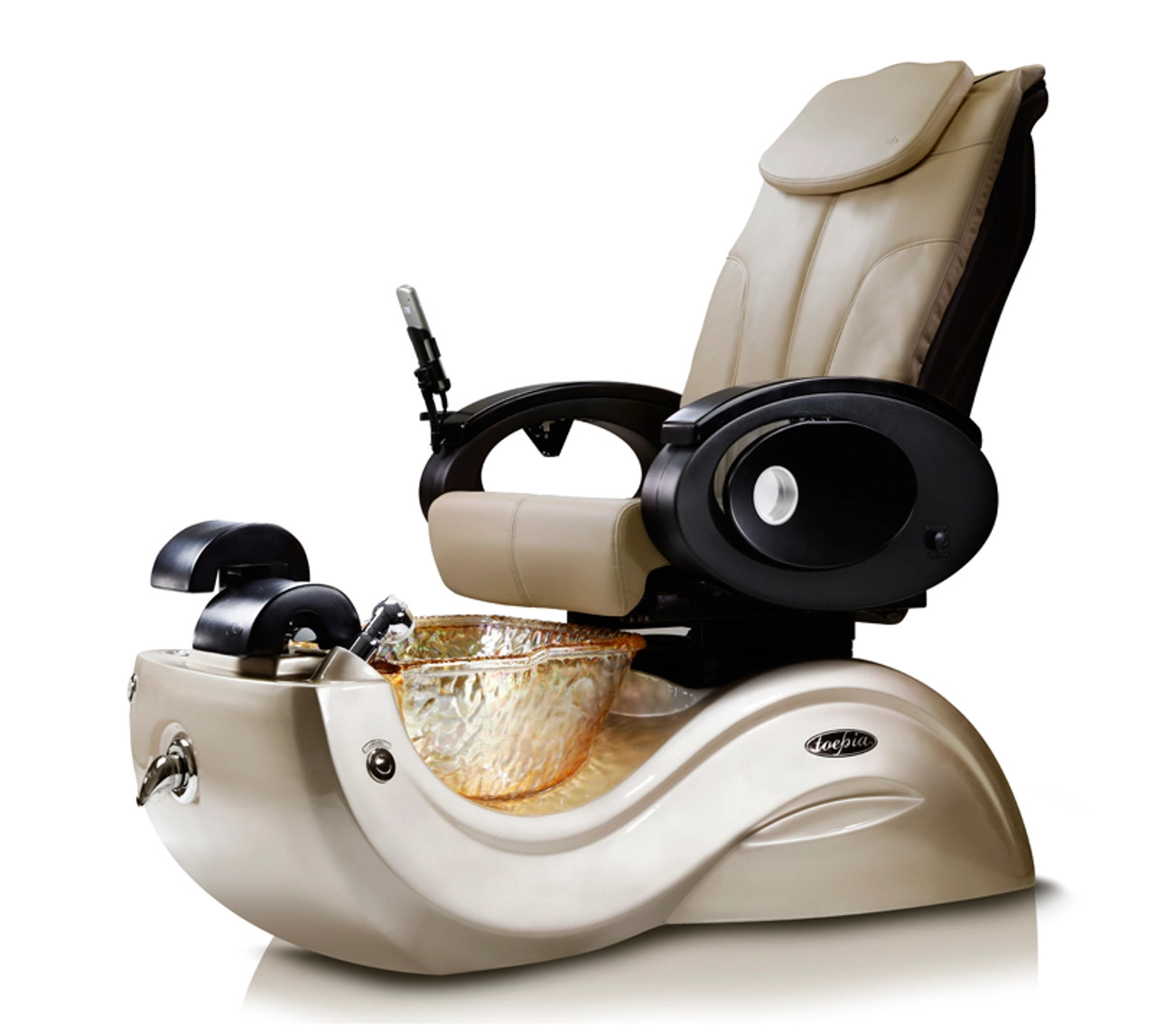 Pipeless pedicure chairs really do have pipes for plumbing and are connected to your water lines. They can be filled and drained with a push of a button. So why are they called pipe-less?
Old-fashioned pedicure chairs had pipes that took water in from one side of the bowl and shot it out the other side. To clean the pipes, you had long brushes. The process was gross and nearly possible to sanitize properly.
Pipe-less pedicure spas now use "jets" that are like underwater fans. The jet sits on the side of the basin and creates a massaging jetstream for your feet. These jets are easily removed and cleaned, cutting labor and making your pedicure chair more profitable with less downtime for cleaning.
Pipeless pedicure chairs typically range from $2,000 to $6,000, depending on the brand, features, and design.
Benefits:
Most pipe-less pedicure chairs include massage for a completely relaxing client experience
Pipe-less / plumbed pedicure stations make it easy to fill and drain the tub
Modern jet systems are easy to clean and sanitize
What are No Plumbing Pedicure Chairs?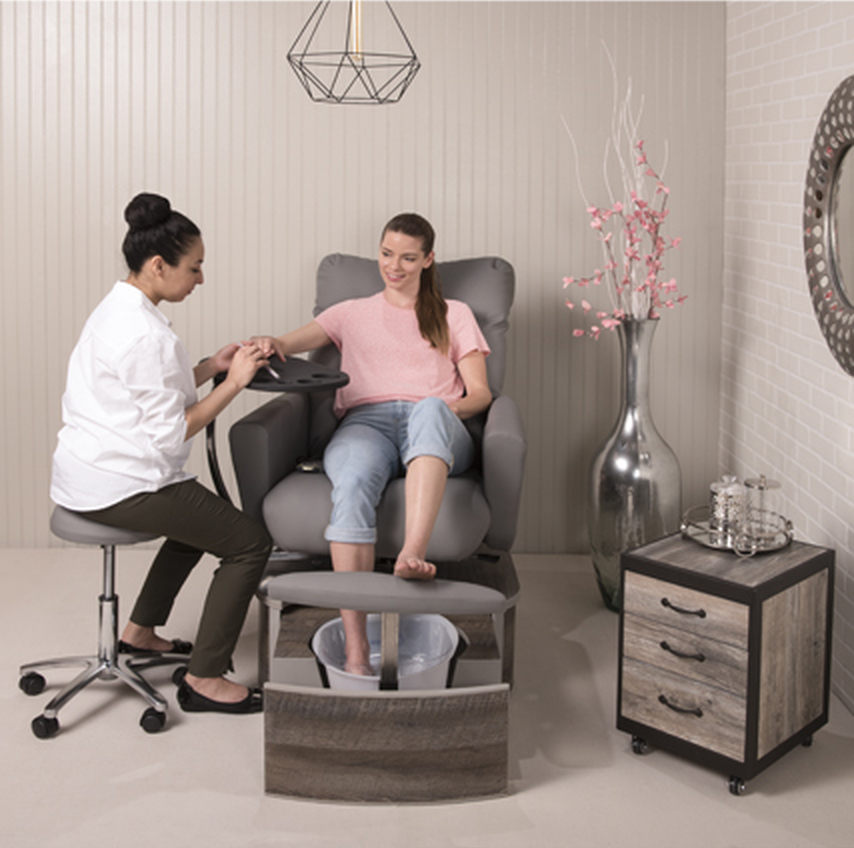 As the name suggests, there is no plumbing for these pedicure spas. Pedicure chairs without plumbing include a pull-out basin that can be filled and emptied at the sink. Many spa designs include heat and vibration to enhance the client experience.
Other designs include copper, stainless steel, or recyclable resin bowls. If you feel hand-carrying the basin is too much, there are carts and trolleys to pull the bowl to the pedicure station.
Benefits:
No need to have plumbing installed in your salon
Cost is much lower than plumbed pedicure chairs (from $200 to $3,000, depending on the brand, features, and design)
You can double-purpose the basin by using it for at-home pedicure services
Popular Brands of Both Pipe-less and Plumbing Free Pedicure Chairs
Several popular brands of pipeless pedicure chairs on the market include ANS, Belava, Continuum, Gulfstream, J&A USA, and Whale Spa, and , which offer a range of models and features to suit different salon needs and budgets. Some chairs have additional features, such as built-in massage functions, LED lighting, and adjustable footrests. The best-selling no-plumbing pedicure chairs are consistently the ones made by Belava, Continuum, and Whale Spa.
Maintenance and Cleaning of Pipe-less and No Plumbing Pedicure Chairs
Pipeless pedicure chairs are designed to be easy to clean and maintain. The jet system is designed to be removable, which makes it easy to access and clean. Simply remove the jet from the basin, clean it thoroughly with soap and water, and disinfect it. After each use, the tub can be wiped down with a disinfectant to ensure it is clean and hygienic.
Using disposable liners in your pipe-less pedicure chair or your non-plumbing pedicure chair is recommended. After each client, simply replace the liner with a new one, and you are ready for your next client.
Conclusion:
In conclusion, pipe-less pedicure chairs no longer have the old fashioned hard to clean pipes inside but they are plumbed (connected to your water lines). On the other hand, no plumbing pedicure chairs have no pipes and no plumbing; You fill and empty the basin at your sink. Both types of chairs are easy to clean and maintain, but typically the no-plumbing versions are easier. They often share many features, such as manicure side tables, massage chairs, remote control and technician control devices, and tub liners. In choosing what style is better for your salon, you need to know the answer to one question. Do you want your chair attached to your plumbing system?
Feel free to contact our knowledgeable sales and customer service team to discuss your options and find the perfect chair for your salon's needs.Our professional, reliable, and friendly customer service team is available during business hours through online chat or phone at +1 888-454-2742; you can also email us 24 hours at hello@ariachairs.com.
FAQ:
What are pipeless pedicure chairs?
Pipeless pedicure chairs are a type of pedicure chair that uses a built-in propeller instead of a network of pipes to create jet streams in the foot spa tub. This chair type is more sanitary compared to traditional pedicure chairs because water does not flow through the tub during the pedicure process, making it easier to keep clean. Disposable liners are available for extra hygiene.
What is the difference between pipeless and piped pedicure chair?
The answer is found in where the pipes are placed. A piped pedicure chair has tubing that moves the water around the pedicure tub. Water is extracted from one side of the pedicure tub and is released on the other side of the tub. That creates the swishing and swirling of water. The downside is the piping needs to be cleaned after each use. Imagine all the funk that got swished around those pipes during a pedicure. Skin oil and dead skin get trapped in the pipes, which are hard to clean and sanitize properly.
A pipe-less pedicure chair also has piping, but those pipes only connect the pedicure chair to your water source and drainage. Once the water goes into the pedicure tub, it can only go through the drain. The appearance of water circulation is through jets or little fans that attach to the side of the tub. Cleaning pipeless pedicure chairs is a snap, and you can securely offer your clients a highly sanitized service.
What is the difference between a pedicure and a spa pedicure?
A regular pedicure is a basic foot grooming treatment that includes trimming and shaping nails, cuticle care, and moisturizing. On the other hand, a spa pedicure is an upgraded version that provides a more luxurious and relaxing foot care experience. It offers a better atmosphere with soft lighting, fancy chairs, privacy, and access to other spa facilities. Technicians who provide spa pedicures offer superior customer service, use higher-quality products like essential oils and luxury foot lotions, and take more time with the details. This service is more detail-oriented and luxurious, keeping the feet clean and feeling soft. Additionally, a spa pedicure helps to prevent nail diseases by removing dead skin cells from the feet and toenails.