Your reception area serves to set the tone of your entire salon. From the moment your clients are greeted to the moment they leave, they should feel the special treatment with every step. At Aria Chairs, we believe that initial point of contact matters. Having a reception desk sets you up for success, allowing for the opportunity to welcome your visitors warmly and professionally.
Not just any of furniture, your salon reception desk is typically your client's first stop and should speak to your culture and your brand. That's why we have created this buyer's guide to help you to select a desk that will make a stunning first impression while providing a space to conduct the business of customer service.
What Should I Look for in a Salon Reception Desk?
Ergonomics
The economics of ergonomics is this—by investing in a salon reception desk designed not only with functionality in mind, but with user comfort in mind, you're also investing in the health and well-being of your team. And that's a good thing (especially if you have a dedicated receptionist responsible for manning the station for long periods of time).
Standing or sitting behind a desk can place strain on the feet, legs, and back. Repetitive reaching and stretching for items just out of reach can result in neck and shoulder pain. Your team will appreciate a desk that promotes proper posture whether standing or sitting, enabling them to greet clients and do the job comfortably and efficiently.
Height is an important consideration to keep in mind when choosing a reception desk. It's recommended your reception desk is between 30" to 42" high.
Style/Design
Every piece of furniture and equipment in your salon makes a statement and should speak to the mood you hope to create. That's why the look and feel of your salon reception desk is an important consideration.
Depending on the layout and décor of your space, typically your reception desk is the first thing your clients will see, serving as the touchpoint where you will welcome them into your salon. Whether you lean towards something fun and funky or something more sleek and sophisticated, your reception desk allows you to express your salon's unique style right up front.
Size and Shape
Your reception desk should complement the rest of your salon furniture and décor and serve as a base to allow your team to shine. Your countertop space provides a place to conduct business as well as serve as an opportunity to showcase business cards, product, and store items you may need.
Salon reception desks are usually designed in rectangular, L-shaped, or U-shaped layout with under-desk storage and filing. Some desks feature a raised privacy panel on one or more sides.
Make sure to measure your space before you buy. Choosing a desk that's too big and bulky is never a good idea, especially in a high-traffic area. Underestimating a space may leave the impression that your desk was an afterthought.
Counterspace and Storage
Let's face it, in addition to being a place to meet and greet your clients, a salon reception desk is a place to store and hide additional items. From computers and phones to tablets or schedulers and planners, concealing your tools makes for a cleaner looking and more welcoming and friendly environment.
The surface area of your salon reception desk should be kept clutter-free. Still, it may be used both for the client to set their things while checking in or checking out as well as place for you to display product like shampoo or nail polish as well as business cards and marketing and educational materials.
The main thing to remember is that your desk should not look like an overstuffed filing cabinet. It's meant to draw your clients to you, not make them want to make a run for the exit.
Durability
Beyond choosing a reception desk to enhance the look of your salon, it's equally important to consider the durability and longevity of your investment. You want to choose a well-constructed desk that will stand up to the day-to-day.
Consider the materials available (oftentimes a mix of metal, aluminum, wood, acrylic, and glass). Determine how easy it will be to keep clean—the more shelves and drawers the more effort you'll need to put in. How well the material will stand up to cleaning is important, too—the type of laminate, wood, or fabric can greatly impact the lifespan of a piece of furniture. You want a salon reception desk that's built to last.
Cost
A salon reception desk can cost anywhere from several hundred dollars to several thousand dollars. Some of the things we've discussed above, including size and shape, can influence how much you will spend.
Customizations and materials may further increase the price. These might include designing your desk to meet the specifications of your unique space; special tops customized in material, shape, or size; integrating different materials together; or including branding elements and signage into your design.
Here are three solid salon reception desks for consideration:
Whale Spa Salon Reception Desk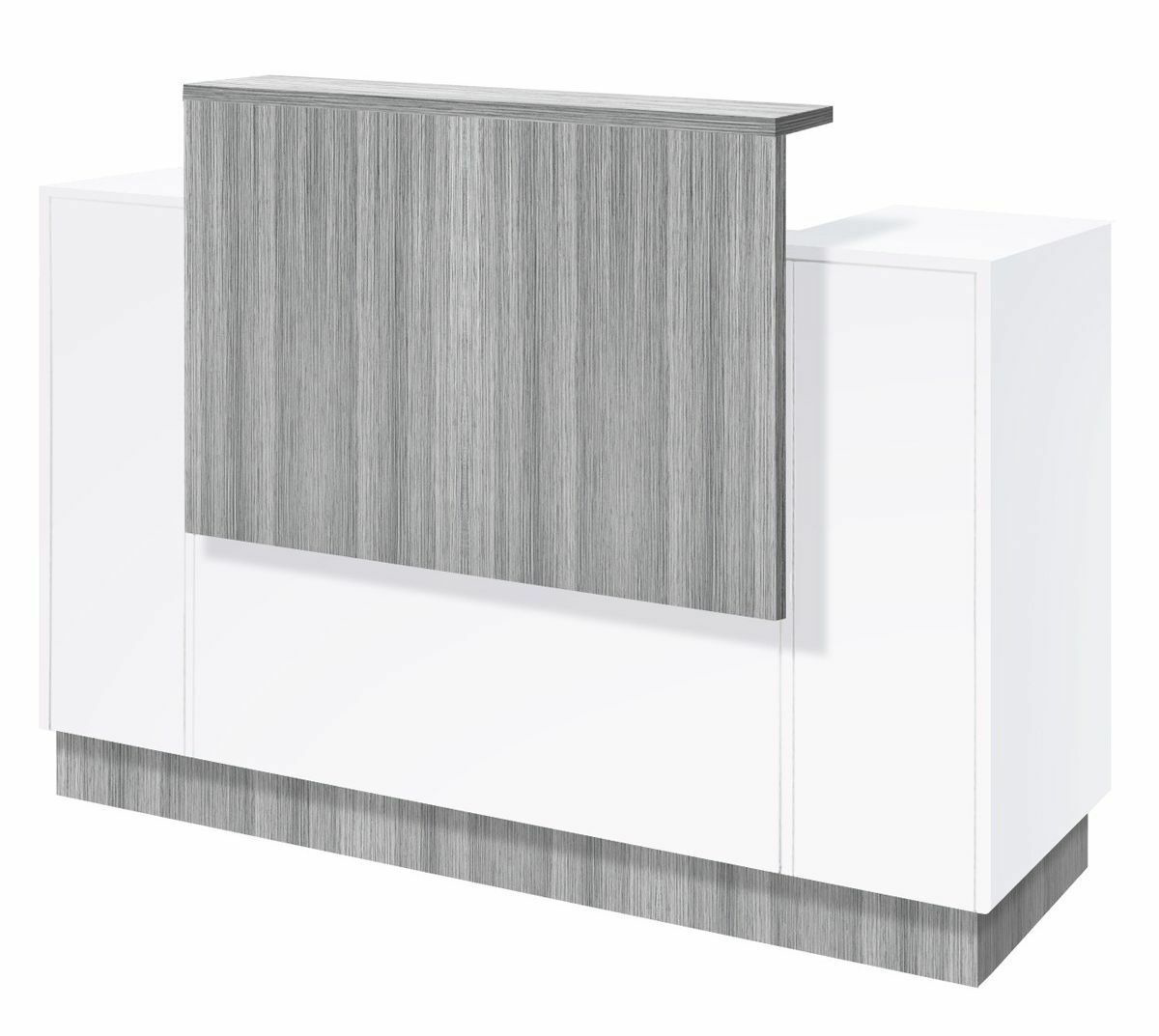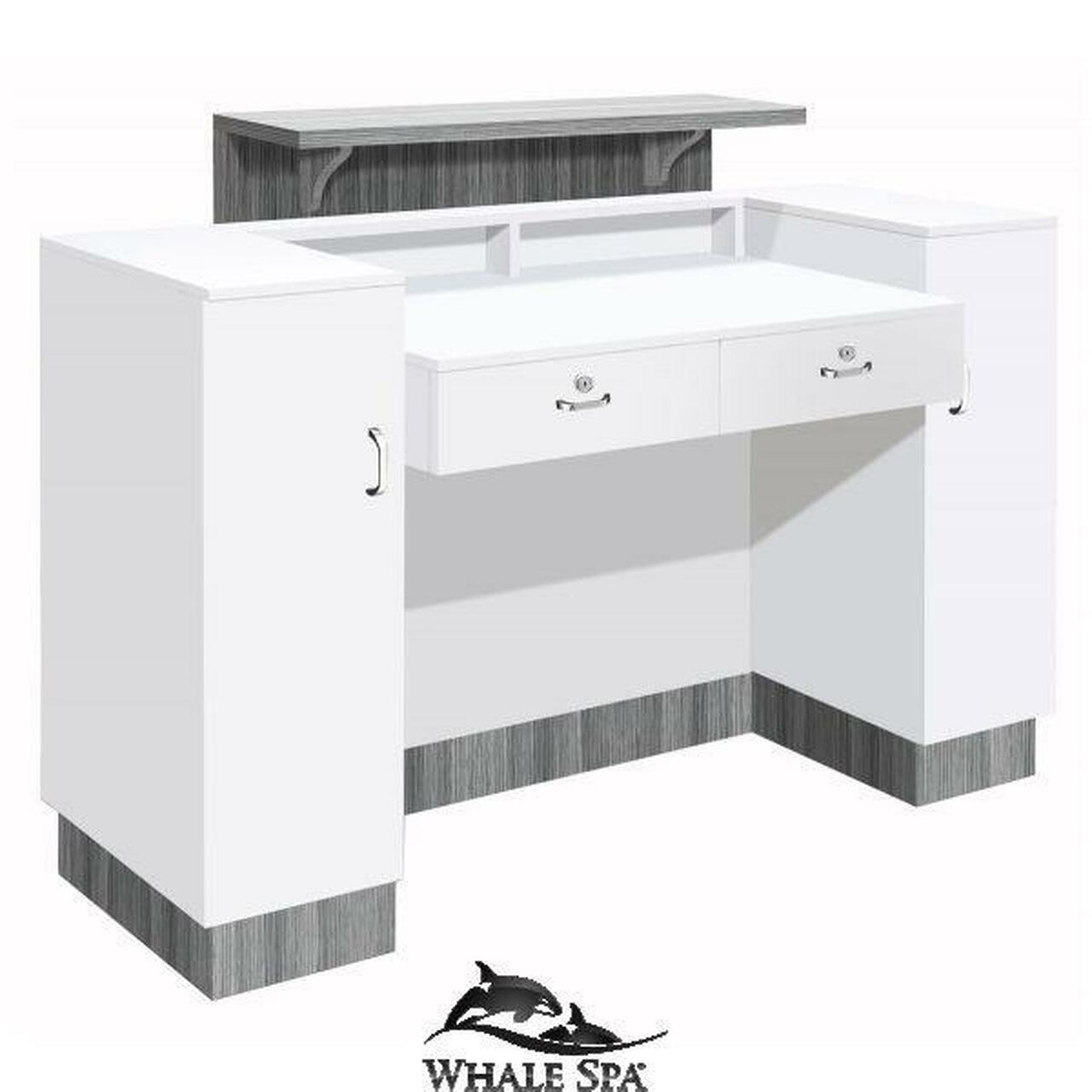 Simple and sophisticated with raised top panel design
Durable, high-quality laminated wood
Modestly priced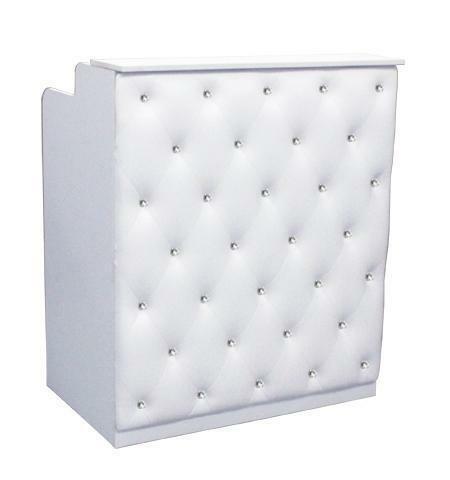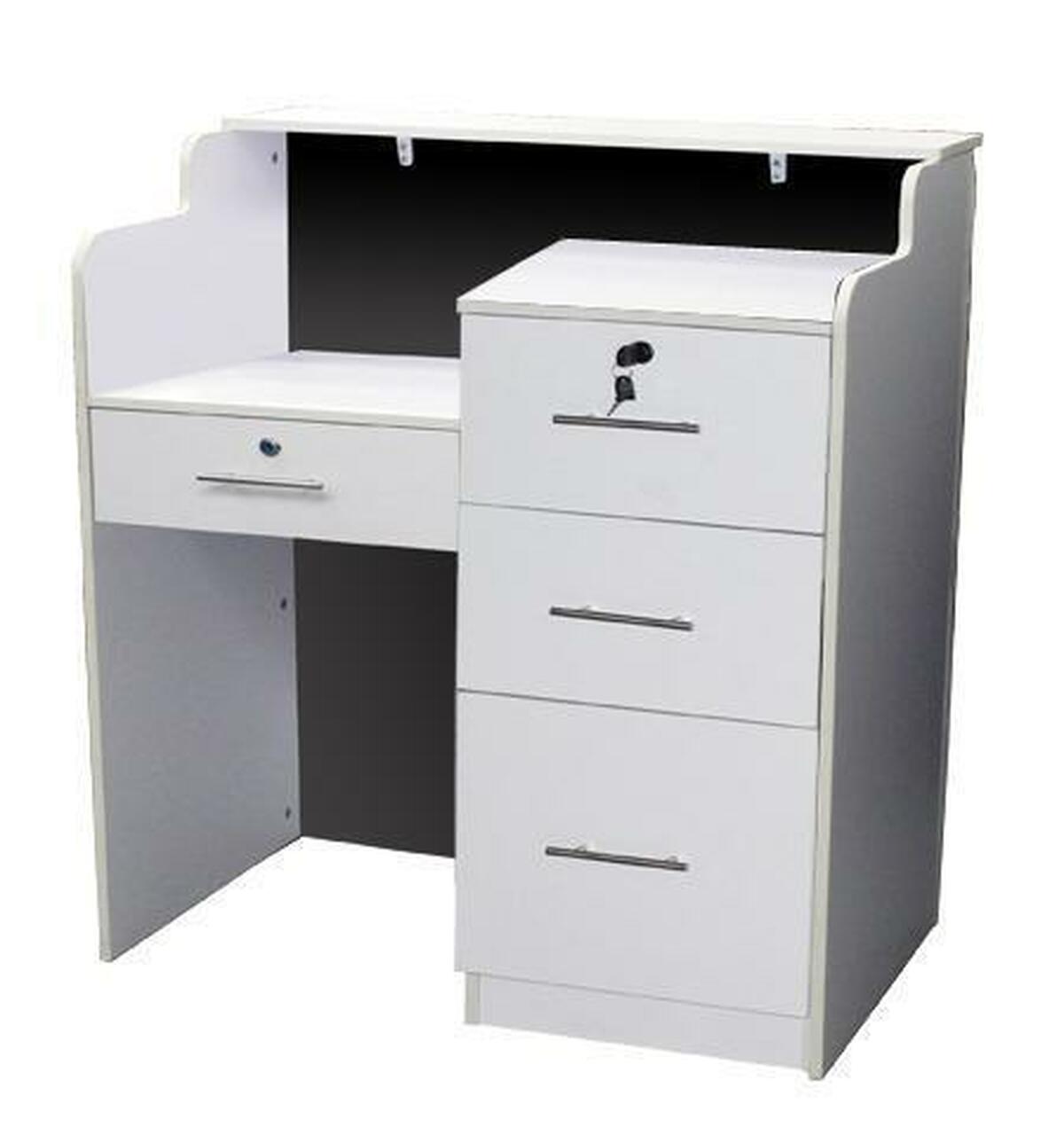 Affordable elegance
Adjustable desk height for ultimate ergonomics
Convenient side cabinet storage
J&A Empress LE Salon Reception Desk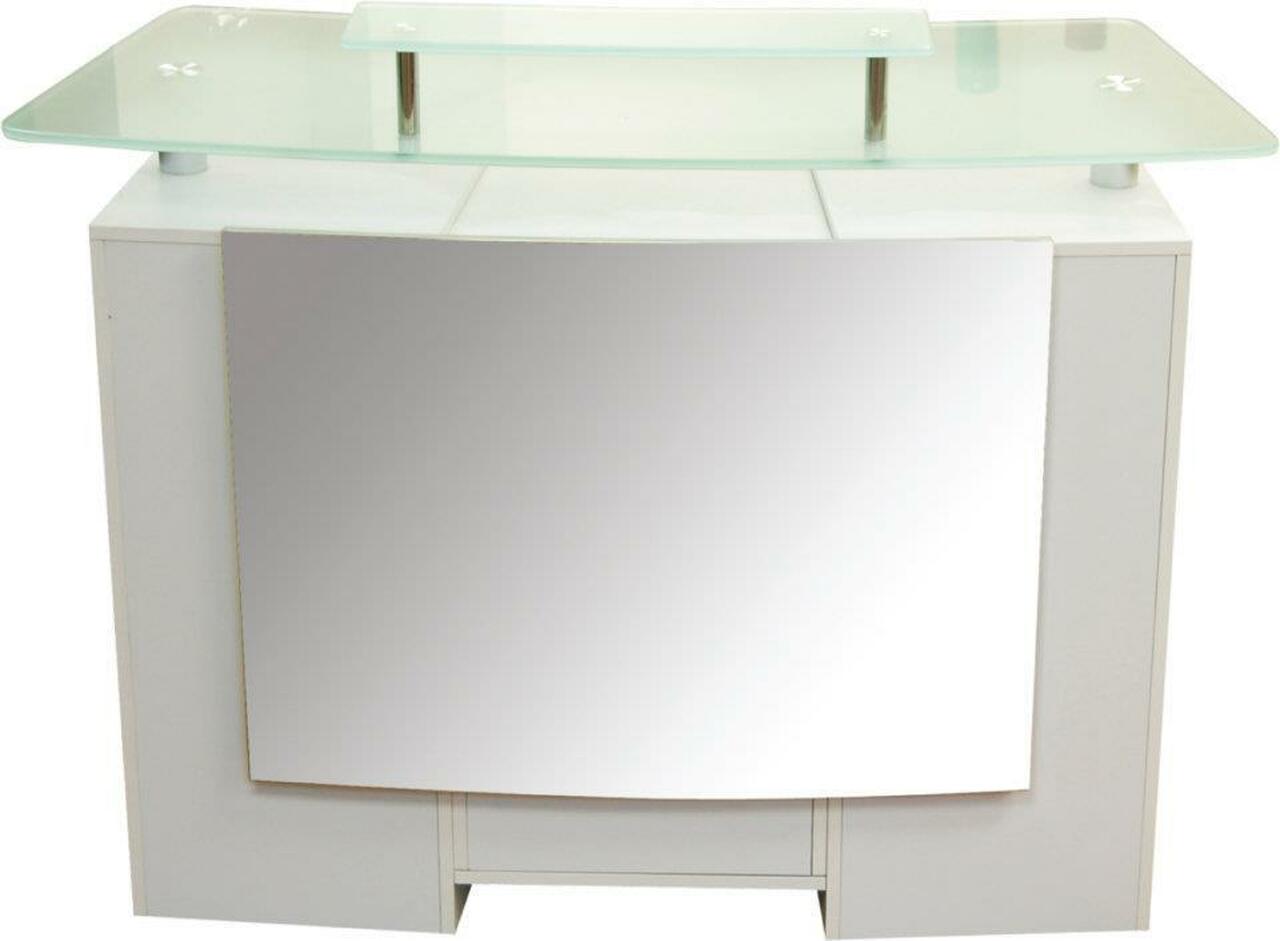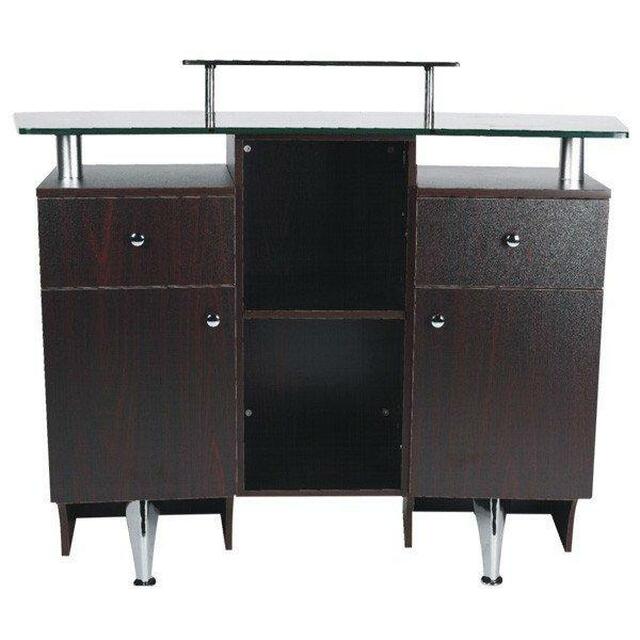 Sleek and sophisticated
Great value
Ample storage
1. Whale Spa Salon Reception Desk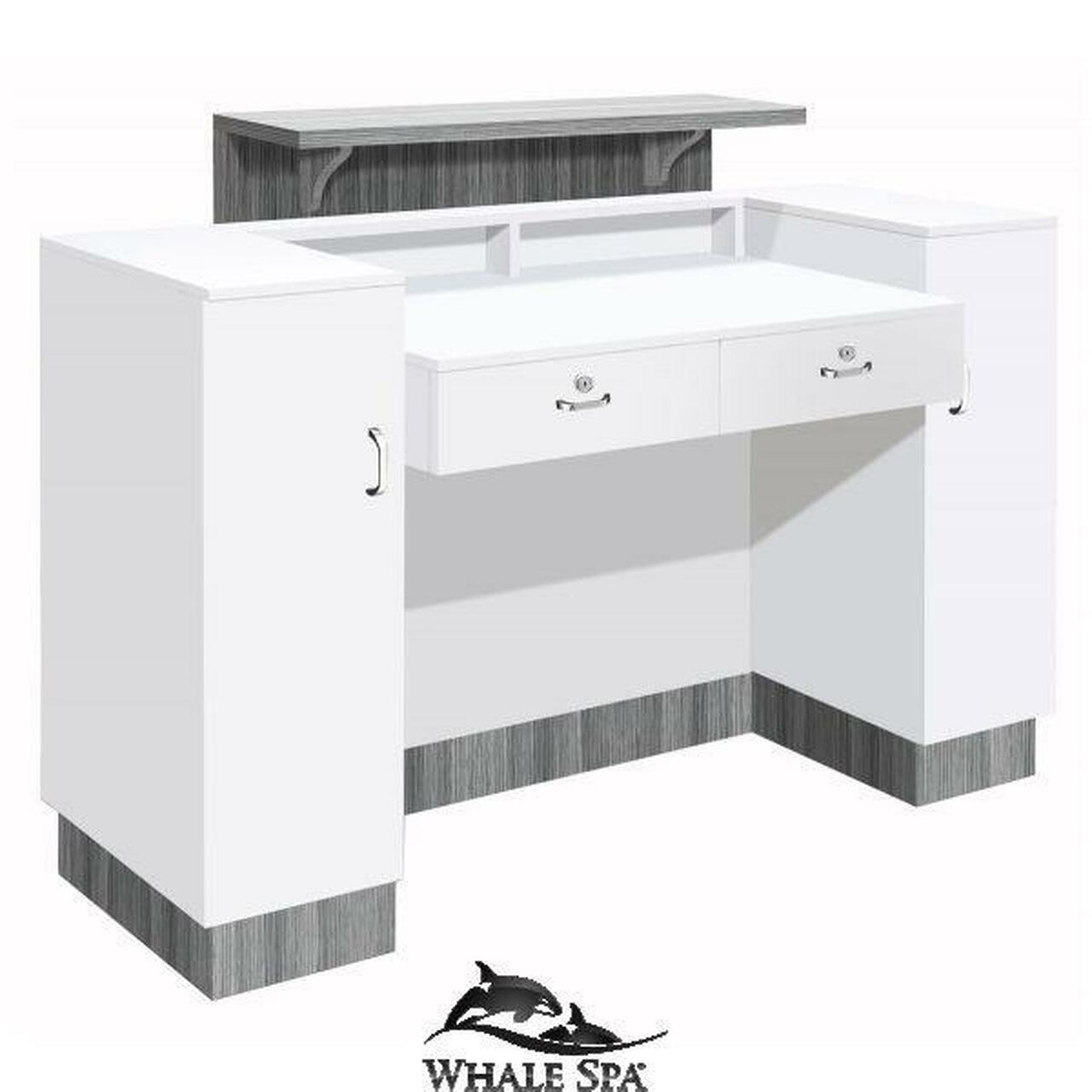 Benefits You'll Love
Wear and tear resistant due to high-quality construction and lamination
Ultimate organization with convenient backside setup
Generous workspace for your receptionist with ample counter space
There's so much to love about the Whale Spa SC06 Reception Desk from its ample desk space to its modern angular and raised-panel design that offers a bit of privacy your receptionist will appreciate. For a salon where functionality is just as important as fashion, this desk is simply perfect. Its rich and sturdy laminated wood construction is complemented by a beautiful and smooth countertop surface that's a pleasure to work on.
If you're looking for a simple yet sophisticated desk where you'll feel proud to greet your clients that also serves as a great organizer with two cabinets, two lockable drawers, and other storage cubbies—look no further.
Specifications:
Dimensions: 52"L x 23"W x 43"H
Warranty: Six-month
Lead Time: 14-21 days
Shop the Whale Spa Salon Reception Desk
2. Deco Crystalli Reception Desk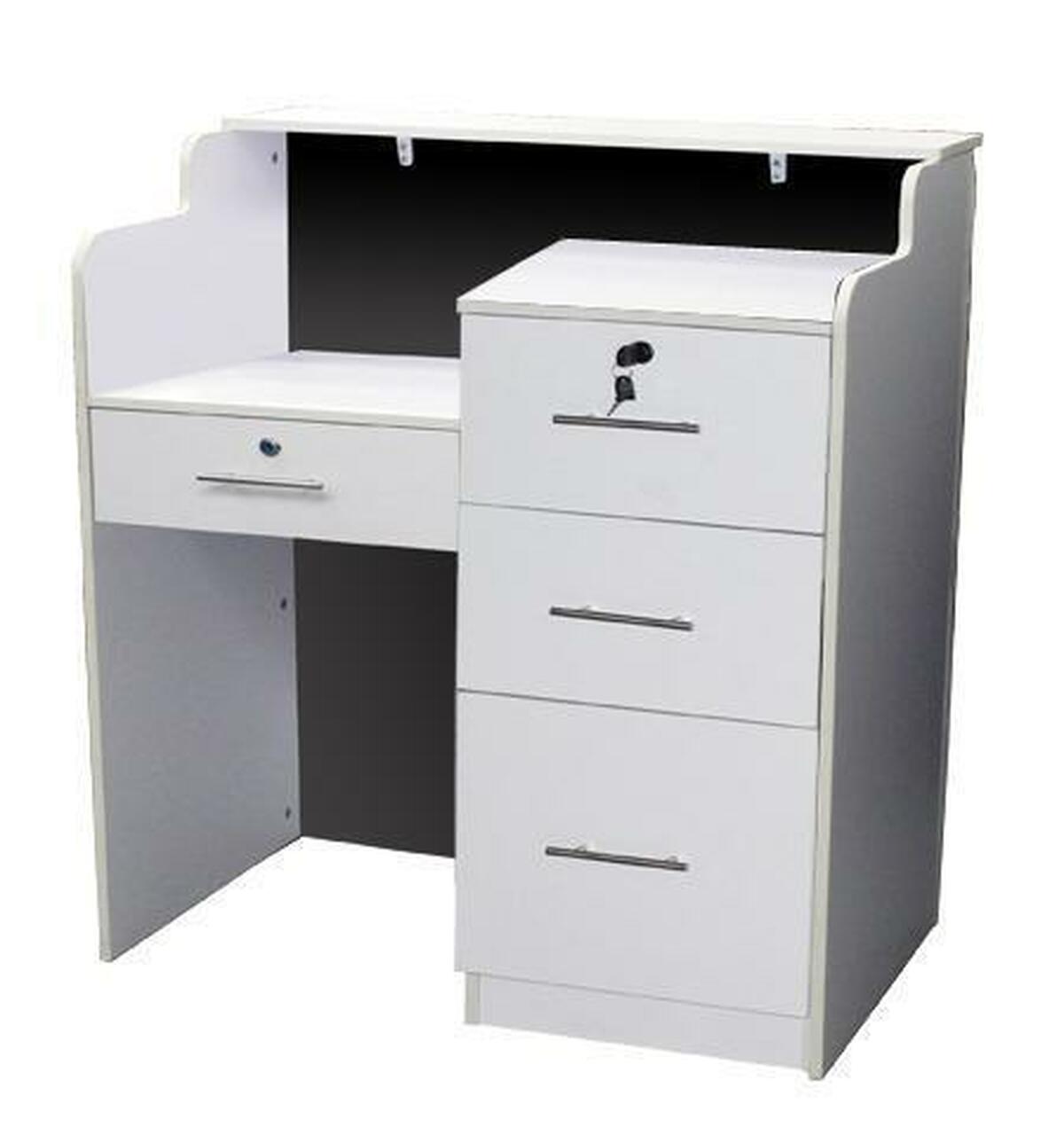 Benefits You'll Love:
Achieve the "wow factor" with classic French style tufted front panel with crystal buttons
Adjustable desk height for ultimate ergonomics and function
Stay organized effortlessly with generous drawer and cabinet space
The Crystalli Reception Desk from Deco Salon Furniture is all that and more boasting an elegant French style. A sparkling crystal button tufted front panel (white or black) will have your clients feeling like they're in for something special from the moment you first greet them.
This unique and stylish salon reception desktop comes with sturdy, roomy drawers that can be installed either at desk or counter height—whatever works best for your needs. Although the Crystalli offers plenty of room to stay organized, you also have the option to order an additional cabinet for even more storage.
For an even more luxurious look, consider the optional granite countertop available in Tan Brown, Galaxy Black or Speckled White to match your décor.
Specifications:
Dimensions: 36"L x 22.5"W X 42.25"H
Warranty: One-year parts
 Lead Time: 14 - 21 Days
Shop the Deco Crystalli Reception Desk
3. J&A Empress LE Salon Reception Desk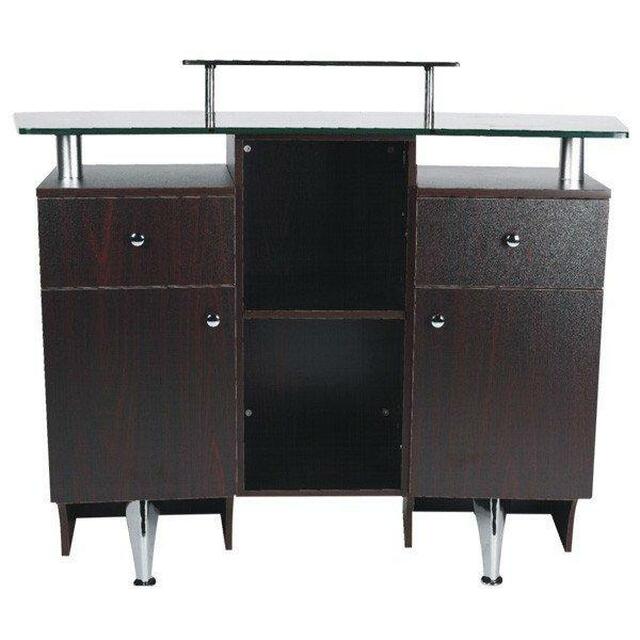 Benefits You'll Love:
Best value in its class with a unique design that looks and feels luxurious
Organization is easy with plenty of accessible storage space
Built to last with rich wood finish, front metal panel, and solid glass countertop
Simply stunning, the J&A Empress LE contemporary glass top reception desk is a very good choice if you're looking for a something clean and efficient at a reasonable price. Dressed to impress, this desk stands out with a large glass counter-top suspended upon round aluminum pedestals, a bonus second-level floating glass top shelf, and decorative front metal panel set in a nickel finish.
Easily set the mood in your salon with your choice of a frosted glass top to match white wood or black glass for the walnut desk.
Not only does this glass top reception desk look great in a variety of settings from classic to contemporary—it's incredibly functional, too! Behind the scenes, you'll find plenty of room for storage strategically placed along the backside with an open middle shelf, two drawers, and two spacious cabinets. This desk is perfect for sitting or standing.
Specifications:
Dimensions: 49"L x 19"W x 39"H (overall)
Weight: 154 lbs
Lead time: 14-21 days
Shop the J&A Empress LE Salon Reception Desk
View our entire selection of Salon Reception Desks HERE.
Still need help selecting the perfect salon reception desk to match the vision you have for your space with the right features and at the right price? Chat, call, or email us +1 888-454-2742 | hello@ariachairs.com. We're here to help you every step of the way!
FAQs
Do I need a reception desk for my salon?
A salon reception desk allows you a place to make a great first impression by welcoming visitors into your workspace as well as to answer questions, process client transactions, and tend to day-to-day tasks away from the main working area in a professional and more organized way.
What features should my reception desk have?
Your salon reception desk should be ergonomic with your receptionist's comfort in mind, match the style and design of your salon and other salon furniture, offer drawers and cabinetry to stay organized, and a large enough counter-top upon which to work.
What should be on a reception desk?
A reception desk should be kept clean and orderly at all times; however, you can showcase product or small signature items like your business card. Make sure to leave enough space for clients to set their items on top upon arriving or as they check out before leaving.
What are the main features of a salon reception area?
Your reception area is the first thing visitors see when they enter your salon. Your receptionist should be warm and welcoming as your guests approach a reception desk matching the style of your workspace and in line with your brand. Offer comfortable seating and appropriate accessories within a unique and inviting layout and design that's pleasing and relaxing for your clients while they wait.