Sheets For Massage Table: How To Dress A Massage Table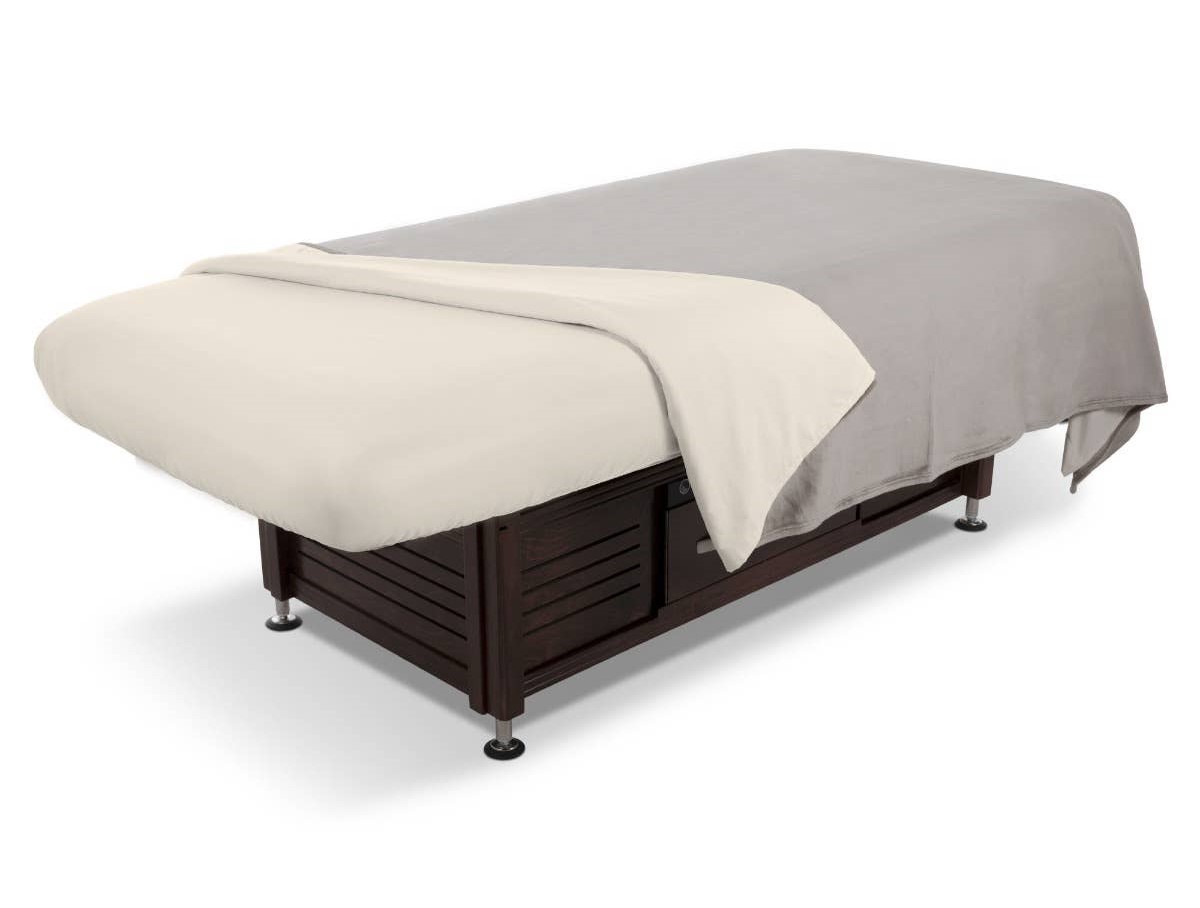 Whether you're a professional massage therapist or a massage enthusiast, having the right massage therapy supplies is essential. From the massage table itself to massage oils and sheets, having the right equipment and supplies can make or break a massage session. One important item that may at times get overlooked is the massage sheets. The right massage sheets help create a professional, relaxing atmosphere in your massage space, ensuring a good experience for you and your client. They also help protect the surface of the table and keep it clean. This is why it is vital to have the right sheets and know how to dress a massage table.
With the wide array of sheet choices available, finding the best sheets for your massage table can be daunting. However, with the right information, you can make the right choice. This guide will help you understand the different types of sheets available and take you through the process of choosing the most suitable sheets for your massage table.
What to Look for When Choosing Sheets for A Massage Table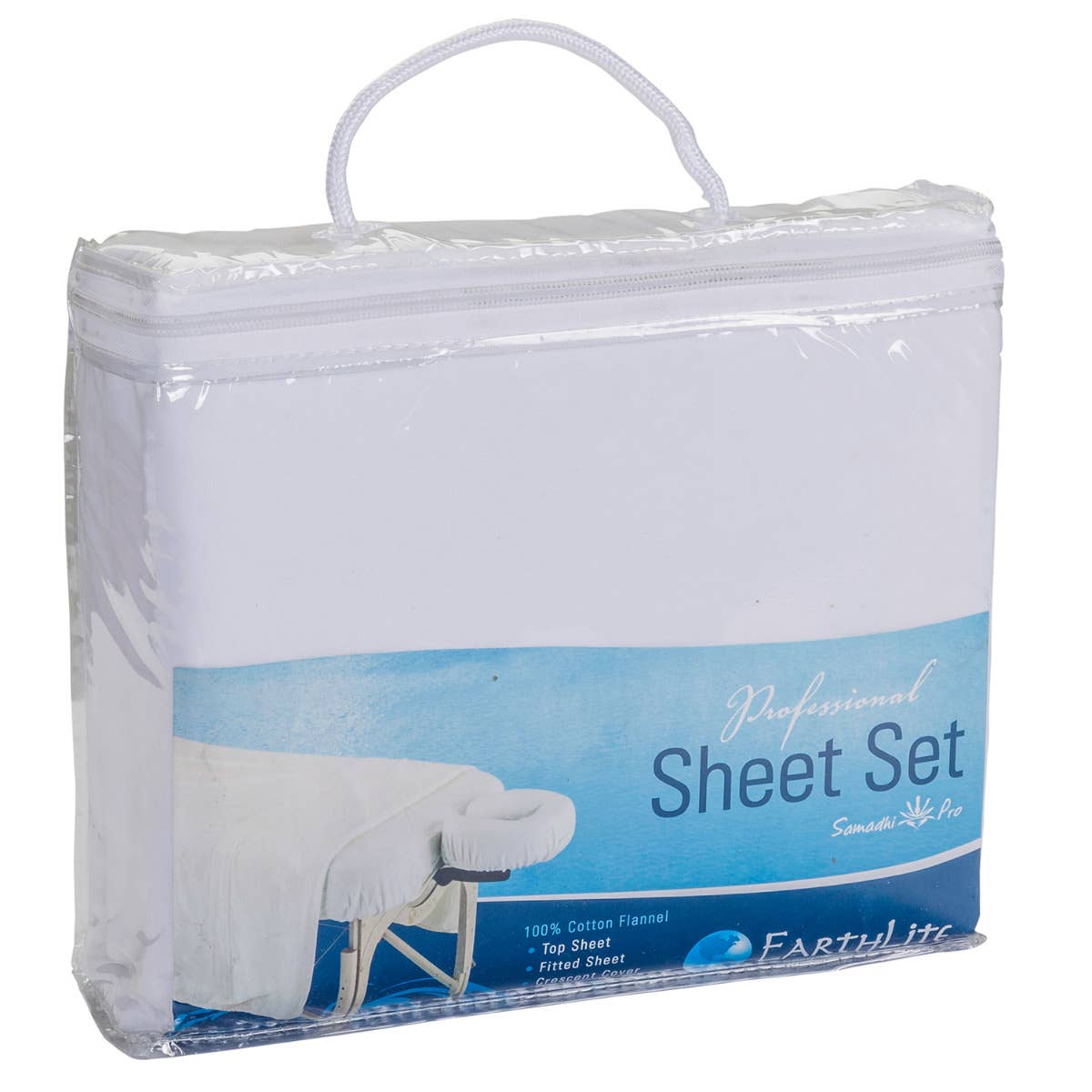 There are a few key factors to look for when choosing the perfect sheets for your massage tables:
You'll want to consider the comfort of the sheets. Your clients will be spending a lot of time on them, so they'll need to be soft and breathable. This will also show your clients that you care for their comfort and relaxation.
You'll want to choose a material that is easy to clean. You'll be cleaning the sheets after every session so it's really important to go for machine-washable materials that are easy to care for.
Price is always a consideration as you'll want to choose sheets that are within your budget. Depending on the fabric and quality, a sheet set can range from $20 up to $100, this gives you the flexibility to choose the option that best fits your pocket.
Overview of Different Sheet Materials
Cotton sheets are breathable and durable, making them an ideal choice for massage tables. They are also affordable, making them great for all types of massage therapists. Microfiber sheets are durable and easy to clean. They are also easy to stretch and reposition on the table due to their lightweight design.
Benefits of Cotton Sheets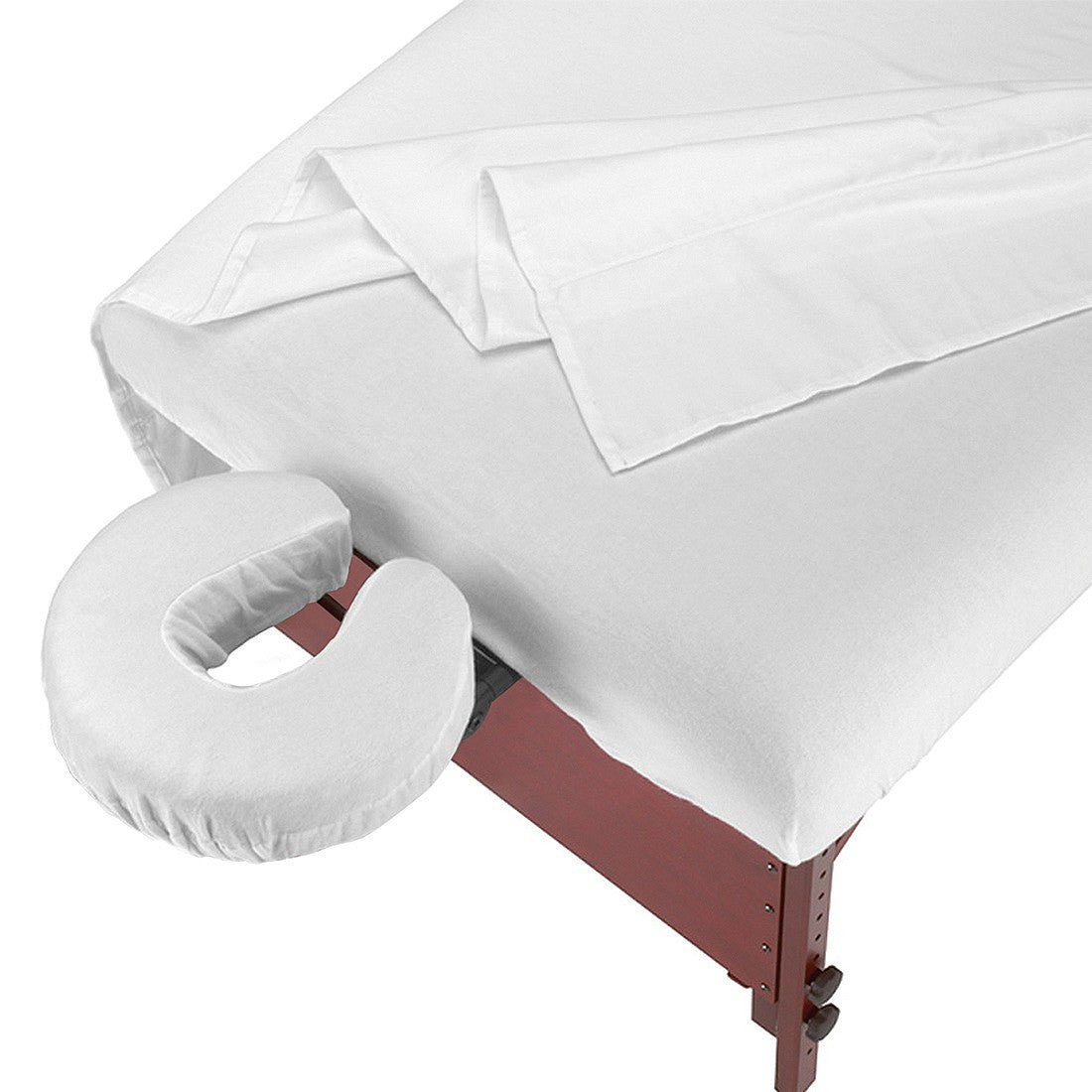 Cotton sheets are soft, smooth, breathable, have a natural feel, and are easy to clean. They are also affordable and durable, this makes them an excellent choice for massage therapists looking for value. On top of that, customers love them because of how warm and cozy they are. When choosing cotton sheets, we'd advice you to go for 100% cotton flannel. Cotton flannel is measured in the weight of gsm (grams per square meter) , the heavier the gsm, the more plush the fabric feels and the more washings it can withstand. Be sure to look for a thicker fabric to provide the proper support and comfort; thin cotton fabrics may not provide enough support for your massage table. The Earthlite Massage Table Sheet, Flannel, Set, ESSENTIALS is a great choice!
Benefits of Microfiber Sheets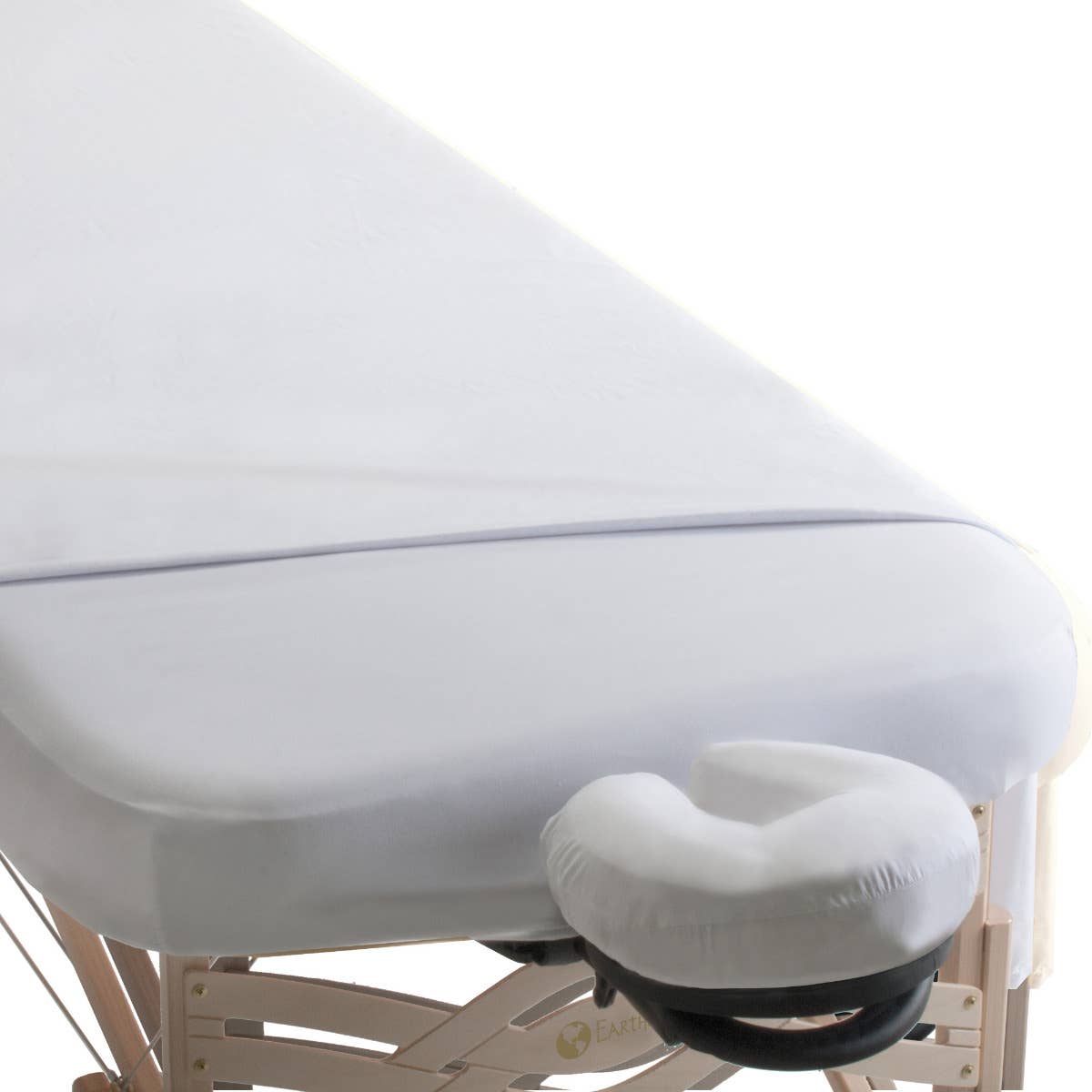 Microfiber sheets have become very popular due to their high-quality, durability, and the fact that they're easy to clean. They are made of ultra fine microfiber polyester yarn, which makes them extremely soft, silky smooth, lightweight, non-pilling, and less prone to wrinkling than cotton sheets. The main advantage of microfiber sheets over other massage sheets is their stain resistance. Because the fibers are so finely woven, they become extremely tight. This makes them excellent at repelling stains, a huge benefit for massage therapists, spa owners, and massage practitioners. If you're looking for a top-tier microfiber sheet set, we recommend the Earthlite PREMIUM Microfiber Sheet Set, one of our 2022 best sellers!
How to Choose the Perfect Fit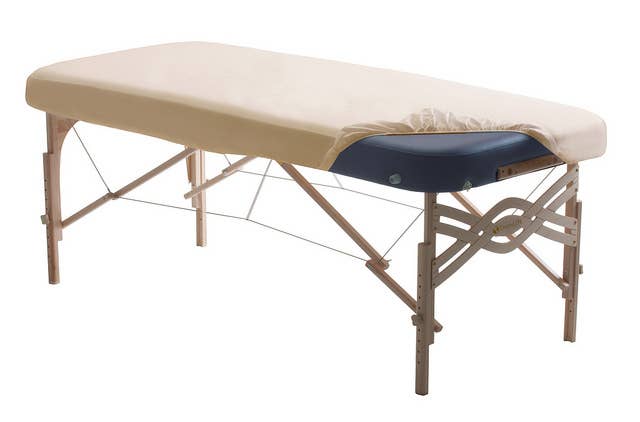 Choosing the perfect fit is a pretty straightforward. The first step is to find out the size of your massage table; when purchasing a massage table the dimensions are typically included so be sure to check and note them. You can also use a measuring tape to measure the dimensions for added surety:
Measure the width of the massage table top (W)
Measure the length of the massage table top (L)
Measure the depth/height of the massage table top (D)
To measure the width, stretch the measuring tape across the width (W) of your massage table top. To get the length, place the tape at one of the top corners then, stretch it towards the other end meet the bottom tabletop corner. This is the length of your massage table top. To take the depth (or thickness), measure the distance between the top of the table top and its bottom. This dimension helps us to determine how deep the pockets of your fitted sheet must be.
Next, simply look for a sheet set with a fitted sheet that has the same dimensions as your table. Viola! You'll have found the perfect fit. Most of the time, the flat sheet/top sheet will be generously sized so as to accommodate all clients.
How to Care for Your Sheets
Proper care is necessary to extend the life of your massage table sheets. To start, we recommend that you wash the sheets after every client session. This will help them stay fresh, clean, and protected against oils, dirt, and bacteria. It's also great for maintaining good hygiene. In order to get the best results, be sure to use a gentle detergent, to wash in warm water, and to rinse in cold water. Avoid using fabric softener, as this can reduce the durability of your sheets and may also trigger allergic reactions in your customers. Dry your sheets on low heat with tennis balls; this will reduce drying time and lessen wrinkling. Make a point of hanging the sheets outside if the weather permits; sun and air provide a natural way to whiten and freshen sheets.
How to Choose the Right Color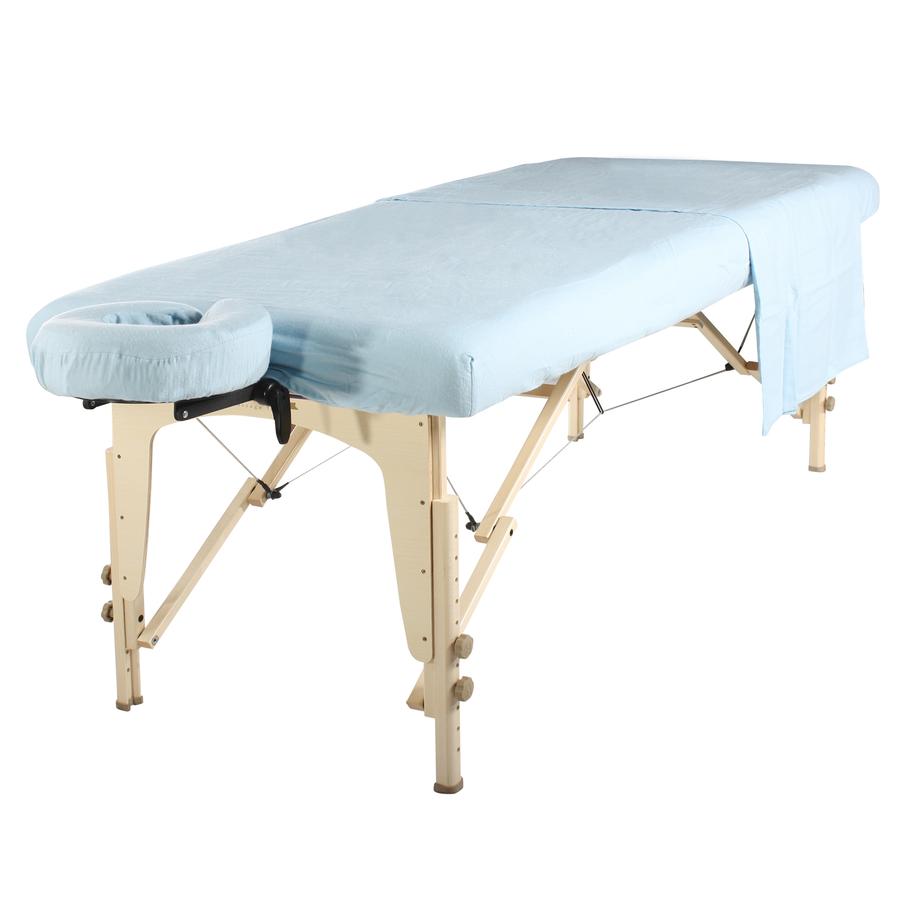 Choosing a color for your massage table sheets may seem simple. However, there are a few things to keep in mind. First, you want to choose a color that will complement your space. This can be as easy as selecting one of the colors from your wall color palette. Second, you want to make sure the color is easy to clean. A dark color may be nice, but it can be difficult to clean without staining. When selecting the right color for your massage table, consider what other equipment you have in the room. You don't want colors that garishly clash; aesthetics are key! In our experience, white and cream are great massage sheet colors as they are guaranteed to blend in almost any space.
Conclusion
Choosing the best massage therapy sheets/sheets for your massage table will not only add to the comfort of your client's massage experience, but will also protect your table's surface, and enhance your professional space. Now that you've learnt how to dress up your massage table, it's time to browse our great selection of massage table sheets and massage accessories, we're confident you'll find the best sheets for your massage table.
FAQs
What type of sheets are best for massage?
Massage table sheets are available in various materials (cotton, microfiber, polyester, percale, and many more); when selecting the best massage table sheets, consider factors such as ease of care, comfort, flexibility, and atmosphere. Cotton flannel and microfiber sheets are the most popular among massage therapists due to their quality and durability.
Are cotton or microfiber sheets better?
Both sheets are great, so it ultimately comes down to features and benefits. You have to analyze your needs and your client's preference when deciding which sheets will be better suited for your massage table. Cotton sheets are cozy and breathable, while microfiber sheets are durable and lightweight.
How many sets of massage table sheets should you buy?
This depends on the number of clients that you have each day. For hygienic purposes, we advise you to wash the sheets after every client session. Based on this, you should have enough sheets to cover all your average daily massages and also have extra in case of anything. If you average five massages a day, you should have at least eight sets of standard-size massage sheets available.
What size sheets fit on a massage table?
A lot of massage table sheets come in standard sizes that have universally fitting for standard-sized massage tables. Standard massage top sheets are generously sized at 63" wide x 100" long while standard bottom fitted sheets are 36" x 77" with a 7" drop to accommodate table cushioning and extra padding or warmers. You can always go with the standard sizes; however, for a professional look and a perfect fit that will stay in place, we advise you to start by measuring the size of your massage table. We have detailed the measuring process above. Next, simply look for a sheet set with the exact fitted sheet dimensions as your table. And just like that, you'll have found the perfect fit.

What are massage tables covered with?
Depending on preference, massage tables can be covered with a table warmer or a fleece pad under the sheets. We'd advise you to start with a quality massage table warmer, protective cover, and fleece pad for warmth and comfort. Then cover that with your choice of massage sheets, you can also add a cozy massage blanket on top.
What does a Massage room need to Have?
A massage treatment room needs to have everything a massage therapist requires to give clients a full massage experience. That includes; a massage table, massage sheets, towels, oils, lotions, creams, cabinets or any other storage space for supplies and accessories, and music or candles for ambiance.
Why Choose Aria Chairs?
Aria Chairs is a premium supplier of salon furniture and equipment worldwide. You can buy high-quality massage sheets, nail salons, hair salons, barbershops, and massage and medi-spa must-haves on our online store. Our vast catalog has a wide range of colors and styles to choose from, so you can find the perfect pieces to match your salon's unique look and feel. In case of any questions, chat, call, or email our helpful and friendly customer service at +1 888-454-2742 and hello@ariachairs.com.