Sunscape Spa—Subtle & Modern, Comfortable & Graceful
The Sunscape Spa from Fusion Spas offers comfort for both the technician and client and peace of mind for the buyer.

Gracefully arching Cherry colored armrests bring sophistication and style to a beautiful piece of salon furniture while offering comfort for clients. Stylish and soft faux-leather upholstery with stand-out stitching delivers a deep comfort for clients and is Acetone friendly, a key feature for a salon environment.

Independently adjustable leg rests with unique shape provide comfort for clients and perfect placement for the detail-oriented work of a technician and the controls are intuitively placed for technicians to naturally work with efficiency.

Every Sunscape comes equipped with standard Roller and Vibration massage—available in three cushion color options: Sable, Latte and Cabernet. When salons upgrade to the higher end Shiatsu massage, a fourth color option becomes available: Champagne. When equipped with the Shiatsu massage, the spa then comes equipped with a differently styled chair with swing-up manicure trays with beverage holders.

Delicately curved accents on the base side panels complement the gentle curve of the armrests.
WHY BUY FROM US?
Amazing Service - We want you to be happy with your order, and we're here to help with any question or concern you have.
We're a family owned business that cares!
No Sales Tax - Since we're based in Portland, Oregon you'll never pay sales tax.
Warranty - We are an authorized dealer and give you the full manufacturer's warranty.
Color Options
*The color options shown are for reference only and, due to differences in device or monitor calibration, may vary from the final color.
Please click here to download and print a copy of our Sunscape Spa brochure.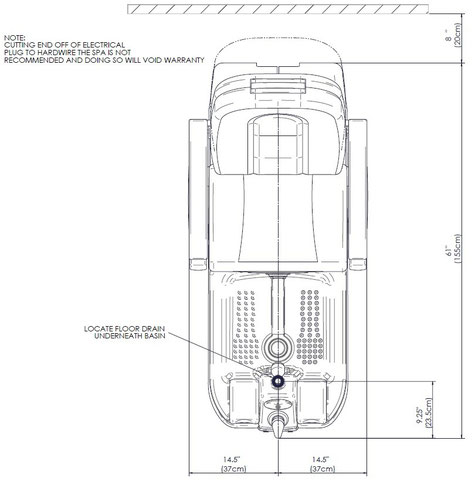 Pedicure spa must be installed by a licensed electrician and a licensed plumber, conforming to all local and national electrical and plumbing codes.
Whirlpool pump motor:120V / 60HZ / 1Amp
Water Fill Line Capacity: 5.5 U.S. gallons (21 Liters)
Seat upholstery: Polyurethane
Seat and back motors: 24V DC Linear Actuators.
Power source: 120V / 60HZ / 7.5Amp / 900W
Construction: Low Density Polyethylene (LLDPE), self-contained, pre-plumbed, Steel Frame, pre-plumbed
Technology: 2 water massage channels, no closed loop circulating pipes, fully drained. System employs three part assembly that twists from the basin for easy cleaning.
Electrical switches: On/Off switch for pump. Single hand-held, low voltage remote controls for massage motors and seat forward/back position.
Hot and Cold water supply lines required.
Compliances: Conforms to UL STD 1951
Certified to CAN/CSA Std C22.2 No. 68
Also classified in accordance with: ASME A112.18.3-2002(R2008)
ASME A112.18.1-2012/CSA B125.1-12
At Aria Chairs, we'll make getting your order dead simple.
Here's how it works.  If you have any other questions, please see our Shipping & Returns page for more details.
Location-Based Additional Freight Costs
In rare cases, shipping may cost more than the price you see and pay on our website. Why does this happen? What are your options if it does? See below for answers.
Freight companies sometimes incur additional costs, because it costs them more to ship to some addresses than others.
The reasons vary, but are most often due to remote locations, country roads, high freight tax jurisdictions, residential addresses, etc. When they incur this cost, they pass it on to us. 
We won't know if your address is subject to this additional cost until our team starts coordinating your order, after you've paid for it. If you've been in contact with us before placing your order, we may be able to catch it ahead of time.
Our website assumes that your address is not subject to these additional freight costs, and roughly 95% of the time, that assumption is correct. So, shipping rates listed on our website, and paid at the time of purchase, do not include these additional costs.
For the 5% or so that are affected, there are a couple of options.
1. Ship to another address. Most often, the additional cost is because the address is difficult to pull a very large truck into - often a building that is, or was previously a residence. In this case, they will have to offload your item(s) and load them onto a smaller truck, causing the expense.
Most of our customers who fall into this category have another, more accessible commercial address. You can simply ship to the alternate address and avoid the cost altogether.
2. Pay the additional $150. Nobody likes unexpected costs. We understand that. If we could warn you ahead of time, we really would. 
Thank you for understanding.
By ordering with us, you agree to these terms.
Free Shipping
The following applies to all orders that claim free shipping promotions.
Our free shipping policy applies only to addresses that are not subject to location-based additional freight costs. Please see above for a description.
To provide free shipping promotions, we have budgeted an amount that works for 95% of our customers.  We would not be able to offer these promotions if we budgeted the amount necessary to ship to all addresses.
We try to do right by our customers, and we hope you'll understand if you are in the 5% that is subject to a location-based freight fee. 
So, if there is a location-based additional cost to deliver your item, there are two options, as stated above.  Please see above for descriptions, but in summary, they are:
1. Ship to another address. 
2. Pay the additional cost ($150).
We appreciate you and your business.
By ordering with us, you agree to these terms.
When will my order be delivered?
Orders are usually shipped from the warehouse within 1-3 business days. Products that are made to order, including all pedicure chairs, can take longer and we will give you an updated timeframe once production has started.

Depending on your location, you can expect your order to be delivered within 3-8 business days after it leaves the warehouse.
What happens when I order?
When you place your order, you will receive an instant order confirmation. When we receive your order, we will send the information to our fulfillment team for shipment.

Will I get a tracking number?
Of course! We'll send you tracking information as soon as your order is on the truck. The carrier will have an estimated time of arrival for you.
Delivery
Our standard delivery service will bring the chair to your curbside or front door. The chairs can be very heavy, so please make sure you have some help to bring it inside.
Can you send my pedicure chair or salon furniture to my house?
We can, but we try to avoid it. Freight deliveries to residential addresses are often delayed for days or weeks and costs significantly more.
Can I return a product?
Often yes, sometimes no. Your order is subject to the manufacturer's return policy.  
Of course, if the product is defective or broken, our products always ship with insurance for damages, and your product is subject to the manufacturer's warranty for defects. 
We will help you file a warranty claim with the manufacturer if necessary, and will need some documentation of the issue. 
You must notify us within 24 hours if there are shipping damages, and we will help coordinate your insurance claim.
Made to order (or custom) items are not returnable (including all pedicure chairs).
Please see our Shipping & Returns page for details.