Aria understands the importance facial beds play in helping you provide excellent service to your clients while running a successful business. No matter the function—spa, massage parlor, tattoo parlor, salon, or private medical practice—we carry a large selection of facial beds offering different functionalities at various price points to suit any and all your needs.
What is a Facial Bed?
A facial bed is a piece of furniture found in medical spas and salons used by technicians to position a client properly while receiving medial or spa treatments. Facial beds should be durable yet comfortable and ergonomic for both the client and therapist. Some facial beds include a face cradle allowing the client to breath easily while facing downward. Facial beds should be easy to clean and sanitized in-between clients.
Why do you Need a Facial Bed?
People go to spas and salons to relax, get pampered, and hopefully leave with that beautiful "glow" feeling that comes from having invested some well spent time and money on yourself.
Your facial bed is often the focal point of your salon or spa and the first thing your clients notice when entering your space. It's not an exaggeration to suggest that having a quality facial bed is critical to the success of any medical spa or salon. Making sure your clients feel comfortable and safe during their treatment or procedure should be top priority.
With the goal of providing a great customer experience and memorable service on a comfortable and relaxing facial bed, you're setting your technicians up for success while ensuring your client walks away a happy (and loyal) customer.
What to Consider when Choosing a Facial Bed
There are so many things to think about and look for when deciding on a facial bed that's right for your spa or salon. Here are some things to consider before you buy:
Comfort
It goes without saying that comfort is where it's at when providing a high-quality and memorable experience your clients will love. Nobody likes a lumpy bed. When it comes to facial beds, choose wisely when selecting the type of upholstery, fabric, and padding. The main things you need to keep in mind after comfort are beds that not only look great and feels good, but will prove to be easy to clean and maintain.
Your client's comfort is not the only one you should have in mind. Consider the technician, too, and make sure your facial bed will allow them to do their work in comfort day after day.
Appearance
Style matters and looks are everything when considering the furniture you choose for your spa or salon space. Whether you're a minimalist looking to keep it simple or are all about a strong finish hoping to make a long-lasting impression—take the time to think about what sort of image you hope to convey with your facial bed.
Safety is Key
Making sure your clients feel safe and secure should rank at the top of your list. Nobody wants to lie on top of a bed they feel might collapse or move suddenly during their treatment or procedure. Consider design, durability, stationary vs. portable option, as well as adjustability features to help clients to easily and safely get on and off.
Cost
They say it's rude to talk about money around the table—but when it comes to treatment tables, cost should be a main factor in your decision making. Be realistic about your budget and shop for the features you need while taking into account the accessories you may want. It's often better to invest a little more in a product that will last longer than to take a chance at something that sounds too good to be true.
Logistics
While it may not be glamourous, logistics is important when it comes to not underutilizing or over buying for your workspace. Consider the size of your spa or salon as well as your available storage space and accessibility to the items your technicians need. Some facial beds come decked out with cabinets and drawers for storage. This is particularly appealing for business owners who are working with a modest spa or salon floor.
Maneuverability
Choosing between stationary and portable facial beds depends on the type and size of business you run. If you're expecting a full house, the ability to maneuver your clients or go between different facial beds throughout the workday may be the difference between an enjoyable day and a nightmare experience.
Electric vs. Manual
Electric facial beds offer a lot of extras. If you like to keep things simple, though, it's perfectly fine to go manual. Some facial beds offer a combination of both. Make sure to consider how having electrical functionalities and remote capabilities may enhance your technician's ability to do their job while making sure to meet all the needs of your clients.
Accessories
From client-focused items like face cradles and pillows to elongated footrests to cup holders and chargers, what you choose to add to your facial bed should be carefully considered. Same for features to help your technicians to perform their job—everything from remote controls to flexible armrests to tilt-back functions to enable luxury massage or treatment to paper holders.
Once you have narrowed down what's important to you, what you want, and what you need, you'll be ready to decide on a facial bed that will be right for you and your clients.
To help kickstart your search, we've created a listed of our favorite facial beds.
Five Best Facial Beds
Electric Facial/Esthetician Chair, INK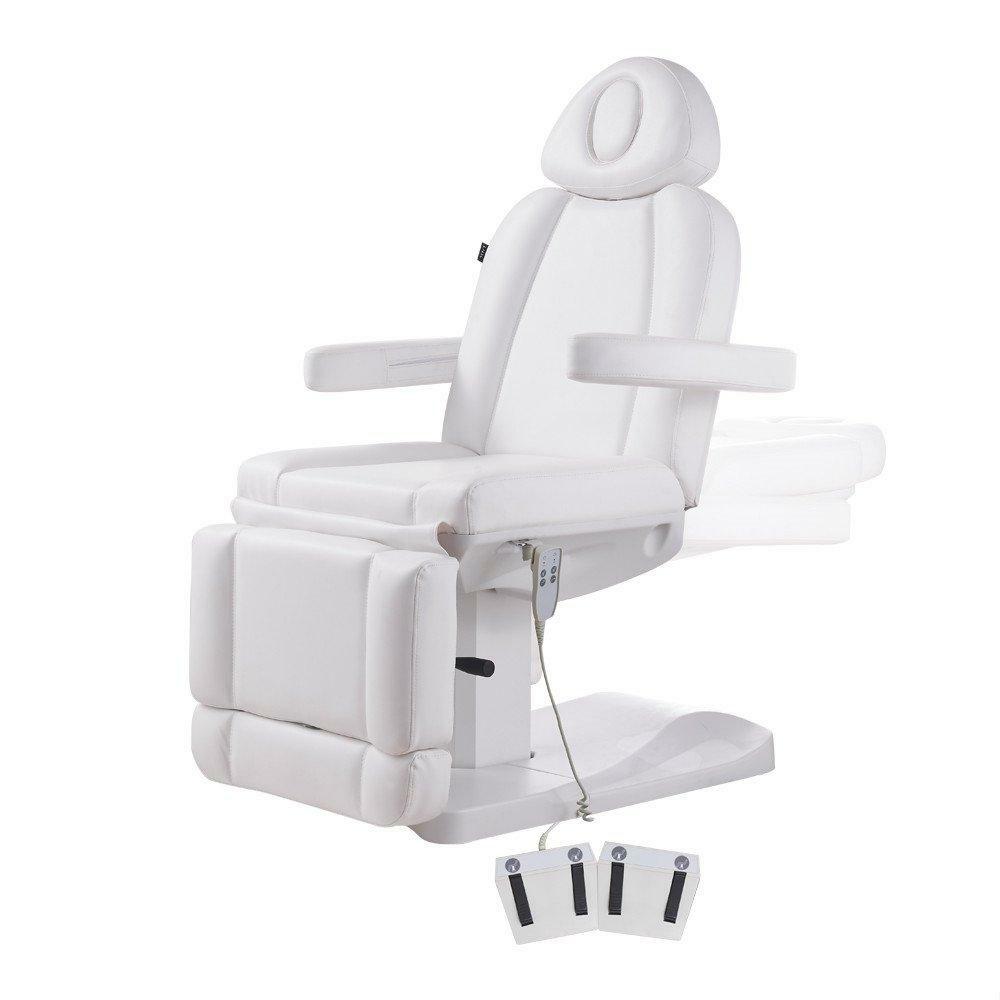 Ultimate comfort
Superior stability
Sleek design
ANS Facial Beauty Chair, 3 Motors/
Stylish design
Comfortable & durable
Three-motor movement system
DIR Fully Electric Facial Beauty Bed Chair, BELLUCCI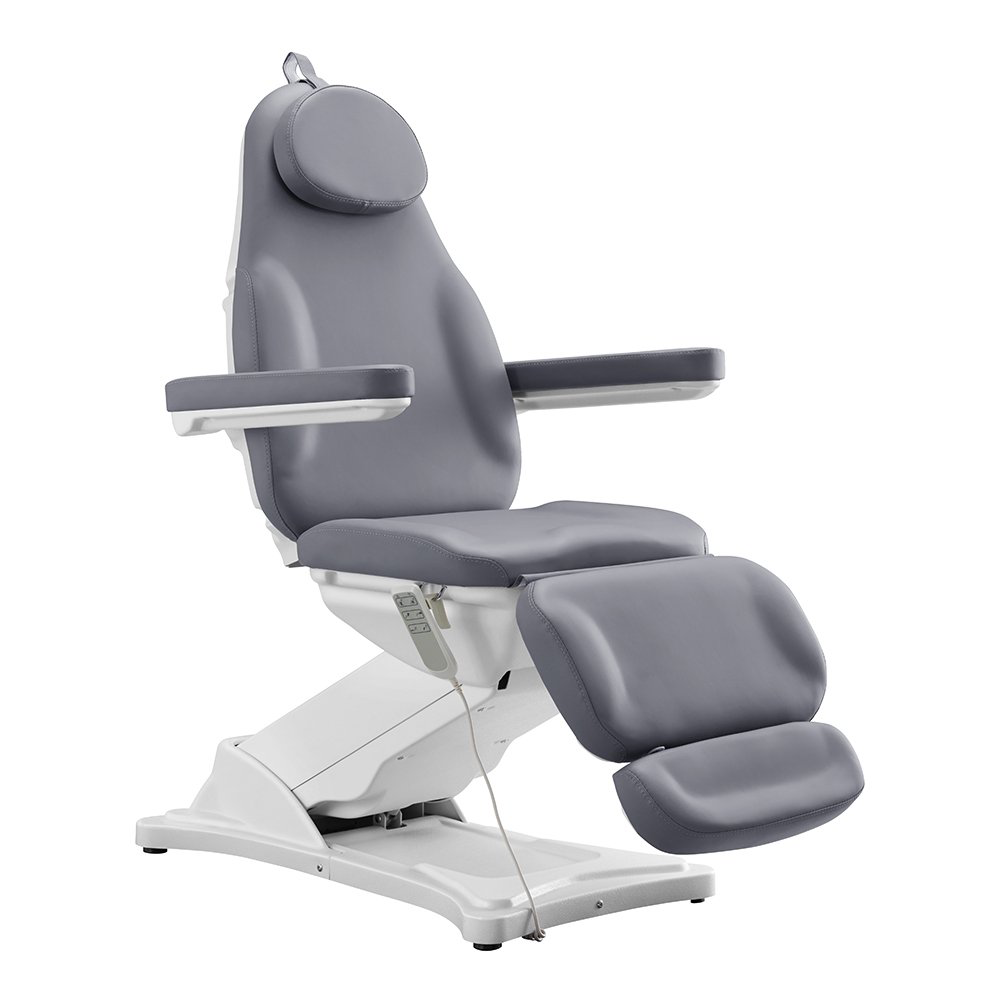 Beautiful high grade faux leather
Durable steel frame structure
Perfect fit for cosmetology & medical procedures
DIR All-Purpose Esthetician Medical Procedure Bed/Chair, LIBRA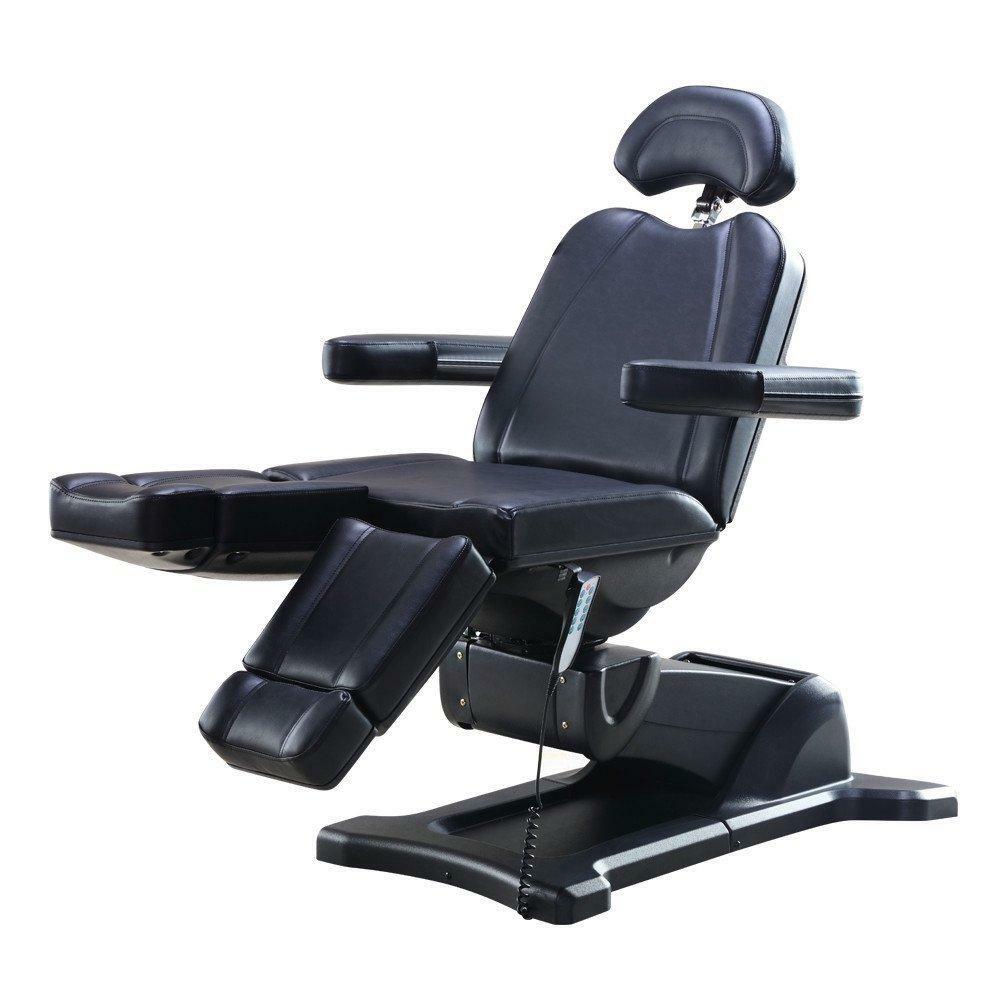 Sleek appearance
Fully integrated design and simple operation
Quiet operation
DIR Electric Massage/Treatment Table, MAR EGEO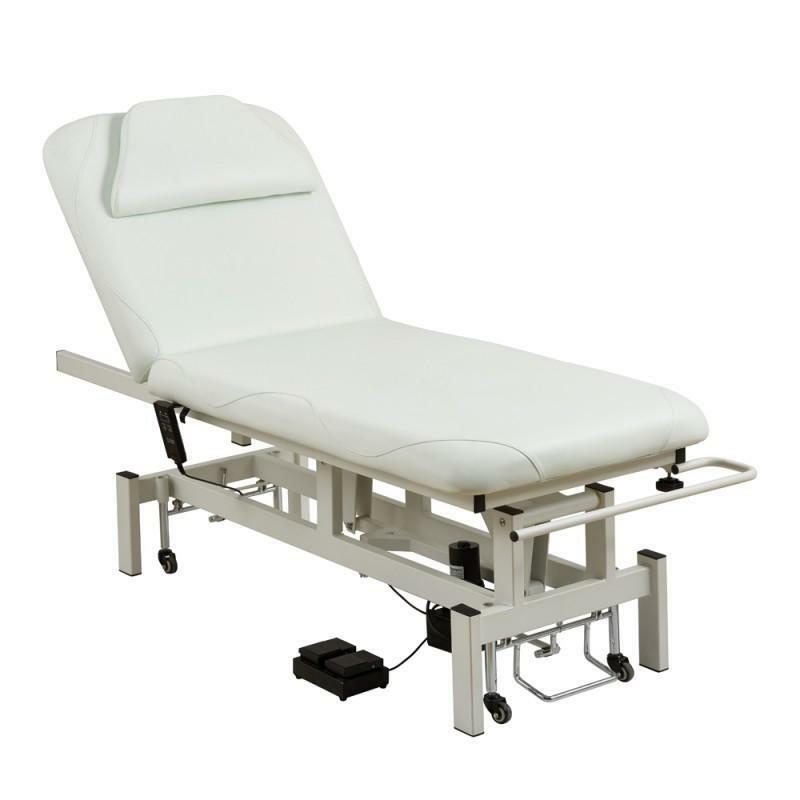 Combination beautician bed & massage bed
Solid construction
Functional flexibility
1. INK Electric Facial/Esthetician Chair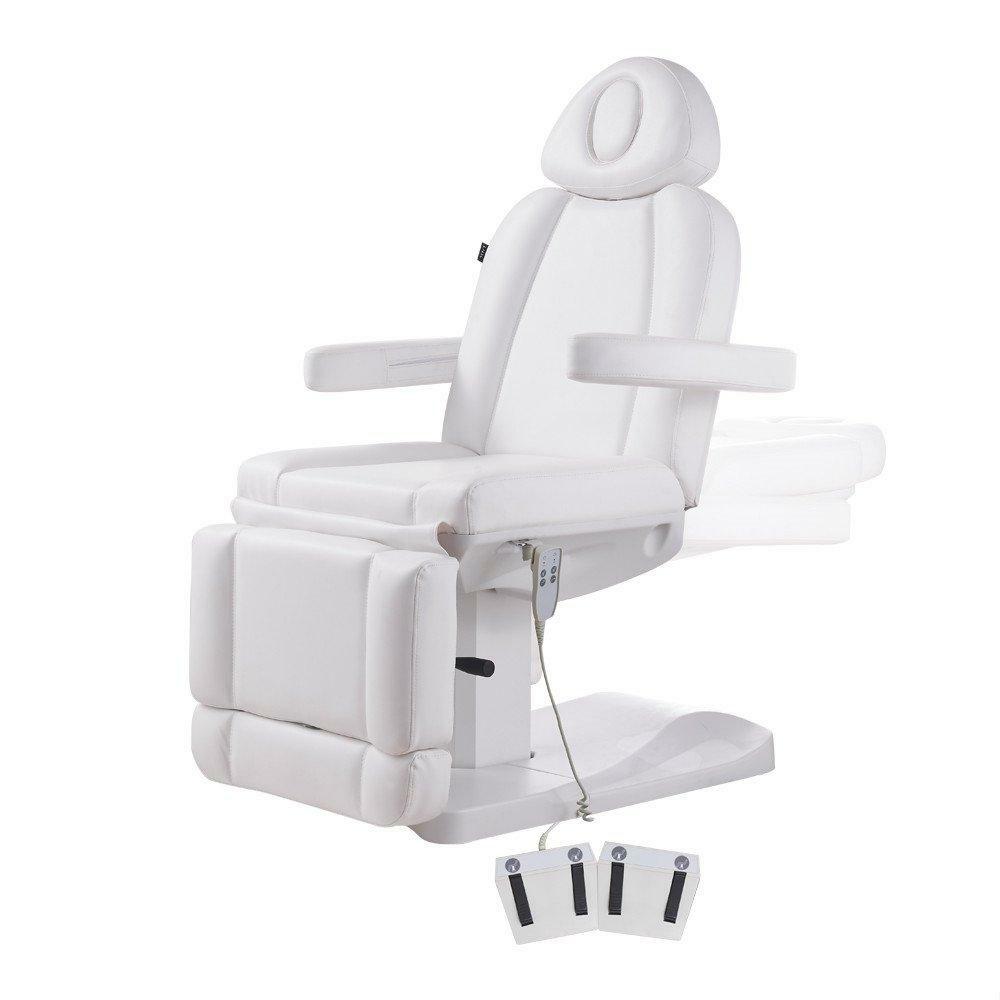 Benefits You'll Love 
Versatile bed is fitted with two electro-hydraulic motors
Superior comfort thanks to high-density memory foam 
Attractive design with high-grade faux leather
The Ink Facial Beauty Bed and Chair from DIR Salon Furniture is a favorite among spa and salon owners looking for a facial bed that's both streamlined and highly functional at an affordable price.
Starting from the floor up, this versatile facial bed made for medical spas and beauty salons is built to last with a steel frame structure that provides superior stability up to 400 lbs. Clients will enjoy the chair's high-density memory foam and faux leather upholstery which provides added comfort during their procedure.
Technicians will appreciate the Ink Facial Beauty Bed and Chair for its removable armrests and extendable leg rests—both of which are easily to adjust manually. Two electro-hydraulic motors work hard to operate the height adjustment and reclining backrest with hand or foot controls freeing up your technician to focus on the procedure.
No matter the beauty or medical procedure, you'll be prepared to accommodate your patient with an interchangeable headrest that is included.
Learn more about the INK Electric Facial/Esthetician Chair
2. ANS Facial Beauty Chair, 3 Motors
Benefits You'll Love
Easy to raise and lower backrest, footrest, or lay flat using 3-motor movement system
Easy to clean and sanitize, saving you time and money
Supreme comfort with PU leather upholstery
The ANS Facial Beauty Chair, 3 Motor is best described as stylish and functional, which is why it's a best seller when it comes to all-in, affordable facial beds. Your clients will love it for its comfortable design complete with soft, padded PU leather upholstery to further enhance their spa experience.
The ANS Facial Beauty Chair comes in black or white which will provide additional style to your décor.
You'll find performing facials, tattoos, massages, microblading, permanent makeup, waxing, and more to be a breeze thanks to the chair's ergonomic design. Its three-motor movement system makes it simple to raise and lower the backrest and footrest or place the bed in a completely flat position. Even more, your technical can make these adjustments using an easy-to-use remote.
For added comfort and accessibility, the ANS Facial Beauty Chair has a removeable pillow and breathing hole for services that involve massages.
Keeping the chair sanitized for your clients is a snap because the easy-to-maintain leather upholstery is chemical, water, acetone, and stain resistant.
Learn more about the ANS Facial Beauty Chair, 3 Motors.
3. DIR Fully Electric Facial Beauty Bed Chair, BELLUCCI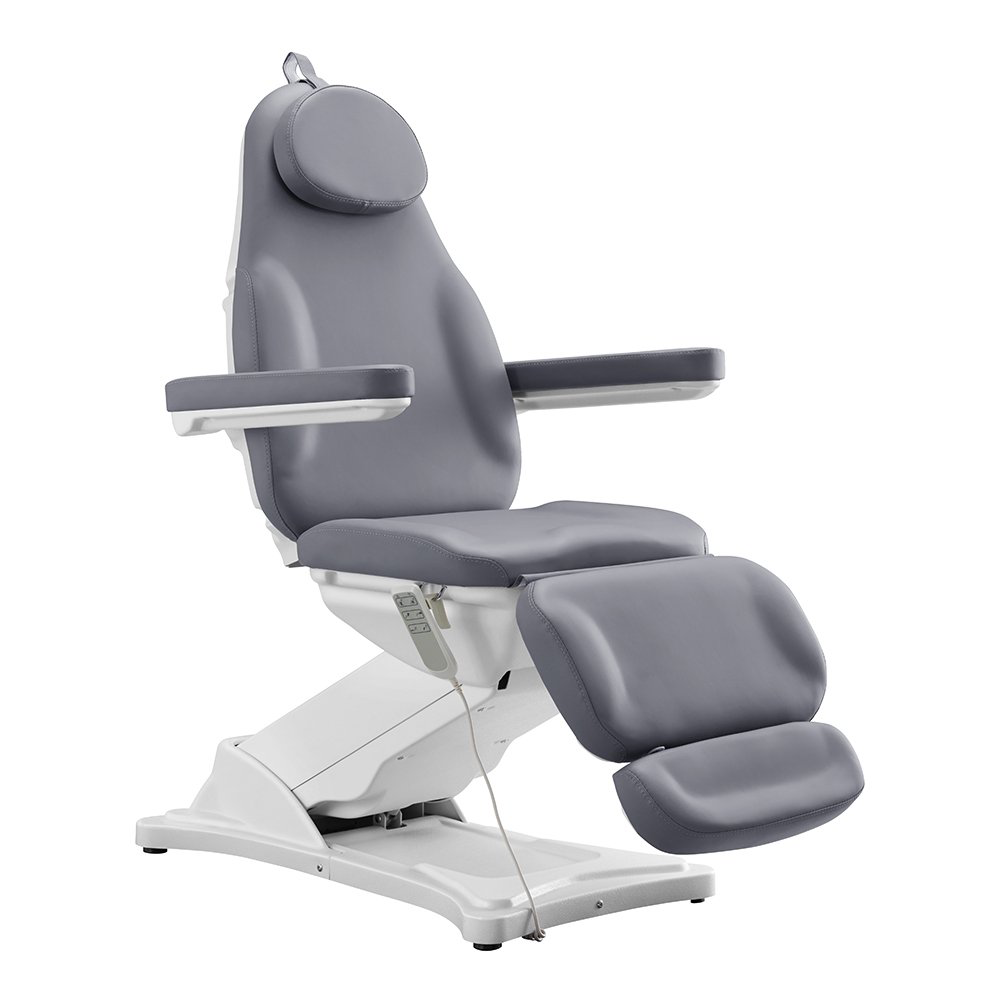 Benefits You'll Love 
High grade faux leather upholstery and high-density memory foam translates to durability
Relaxing experience thanks to quiet and smooth operation
Enhanced client comfort with an extendable & removable leg rest
A combination of style, comfortability, and practicality makes the DIR Bellucci Electrical Facial Bed a perfect fit for both cosmetology and medical spa settings. This dynamic treatment table provides the ultimate base for a variety of procedures.
You can't go wrong with the chair's beautiful and long-lasting high-grade faux leather and sleek steel frame structure for added durability and stability, making your spa look great and leaving your clients feel safe during treatments.
Your clients will be able to relax feeling supported by this bed's high-density foam, a headrest with a breathing hole option, a footrest that's extendable and removable, and reversible, and removable armrests for easy access.
You'll love how quietly and smoothly the backrest, leg-rest, and height can be adjusted to your client's needs thanks to three individual electro-hydraulic motors. When it comes to practicality, the DIR Bellucci Facial Bed has it covered. Additional exciting options include a paper holder, clear protective full cover and backrest and seat cover, and clear protective leg rest and footrest cover.
Learn more about the BELLUCCI.
4. DIR All-Purpose Esthetician Medical Procedure Bed/Chair, LIBRA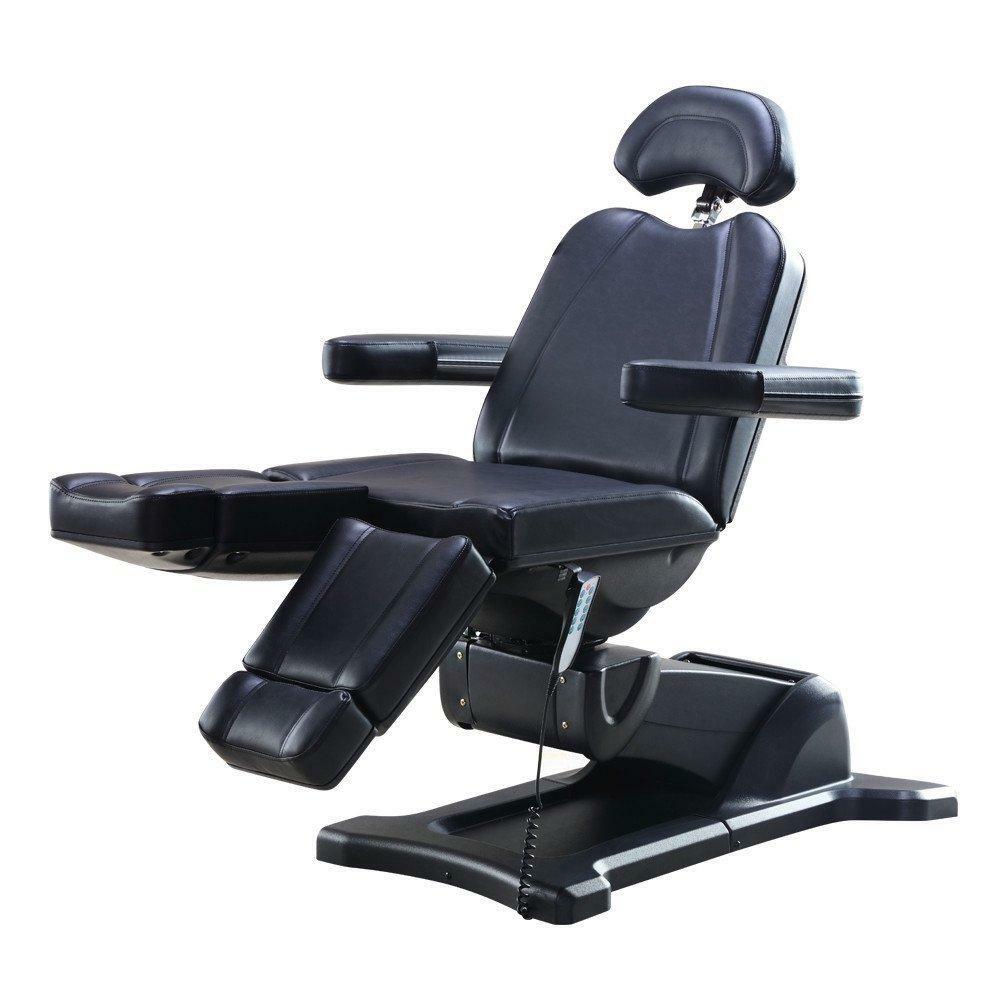 Benefits You'll Love 
Manually adjustable 180-degree rotating seat
Increased flexibility due to removable arms
Easily interchangeable dual-headrest for procedures
Welcome to the revolution with the innovative, completely electric Libra Facial Bed/Chair from DIR Salon Furniture. Not just another piece of spa equipment, this all-purpose facial bed is fitted with five electro-hydraulic motors that smoothly and quietly operate the backrest, split leg-rest, height, and tilt adjustments. Even better, all of these actions can be managed with a convenient eight-button remote control for easy operation.
Comfortability is important when it comes to providing great service, which is why the Libra is decked out in high-grade faux leather and high-density foam to ensure maximum client comfort during their procedure.
Built with your client's safety in mind, the Libra features a heavy-duty frame capable of supporting up to 400 lbs. A manually adjustable 180-degree rotating seat, removable arms, and an interchangeable dual-headrest are the perfect combination to complement all types of procedures.
Learn more about the DIR All-Purpose LIBRA.
5. DIR Electric Massage/Treatment Table, MAR EGEO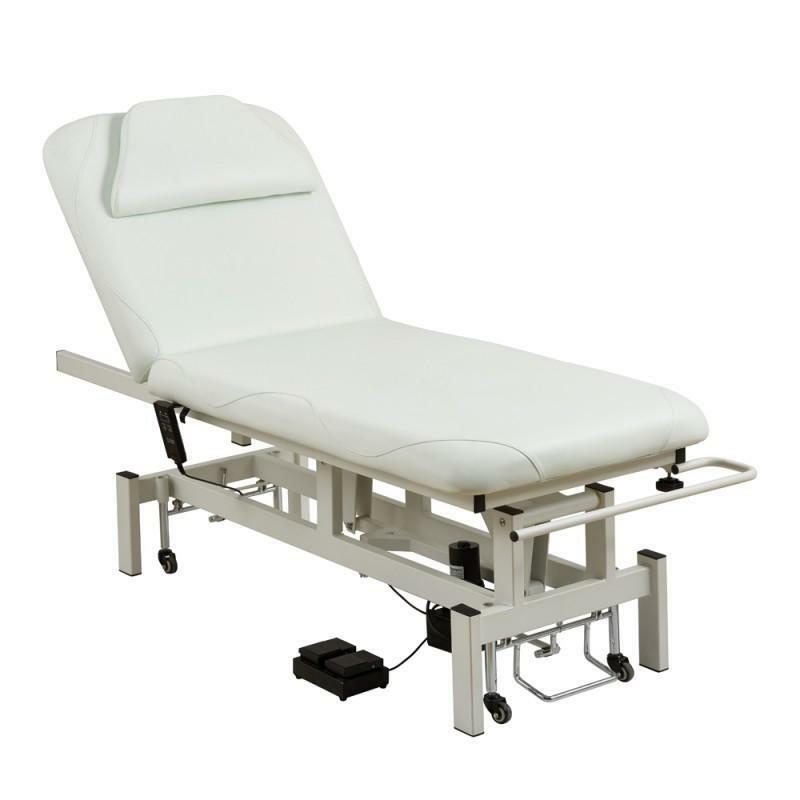 Benefits You'll Love
Fit your salon's décor with a simple design and 3 colors to choose from
Client comfort achieved thanks to high-density memory foam and high-grade faux leather upholstery
Long lifespan as a result of heavy-duty metal frame structure
You can't go wrong with this combination beautician/massage bed that will allow you to offer your clients multiple services ranging from aesthetic to medical comfortably and safely.
The Mar Egeo's heavy-duty metal frame structure can handle up to 400 lbs. capacity and is built to withstand a lot of use and your clients will feel secure no matter the purpose of their visit.
So that your technician can do their best work every time, the Mar Egeo can be adjusted to over 33" using an electrical hand and foot controls. Because your client can never be too comfortable, the bed's backrest can be easily adjusted manually.
High-density memory foam wrapped in high-grade faux leather upholstery is a win-win when it comes to the comfort and durability you want. Available in black, white, and grey, the Mar Egeo fits in perfectly with all spa and salon spaces. The Mar Egeo features a removable headrest pillow which exposes a 6" breathing face hole perfect for prone position treatments including massage.
As a bonus, the Mar Ego is fitted with roller wheels for transfer between rooms for quick and easy maneuverability, saving you time throughout the day.
Learn more about the DIR MAR EGEO.
Still need help finding the right facial bed for your medical spa or beauty salon business? Chat, call, or email us +1 888-454-2742 | Hello@Ariachairs.Com. We're here to help you every step of the way!
FAQS
How big are facial beds?
Most facial (spa) beds are about 28 and 30 inches wide and 73 inches long with adjustable height options, designed to fit comfortably into your space while allowing you easy access to treat your client ergonomically with their safety and comfort in mind.
How much does a facial bed cost?
Spa (facial) beds can range from approximately $250 to $4,000 or more depending on brand name, designs, functionalities, color choices, and additional features and accessories you may want or need for your spa, salon, or medical practice.
What are the beds in spas called?
The beds found in spas are part of the spa furniture and equipment family and are often called facial beds, tables, or chairs; esthetician chairs; massage beds and tables; and/or medical treatment tables, varying from electric to standard and stationary to portable.